« VMA Fug Carpet: Beyonce | Main | VMAs: Fugly From the Block »
August 30, 2004
VMAs: Are You Gonna Fug My Way?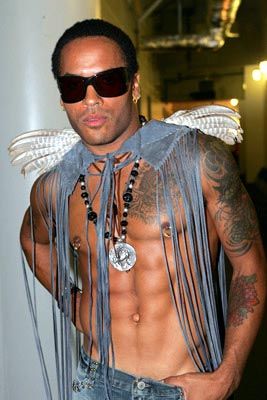 This is a nice chest. Even though I hate Lenny Kravitz, I can appreciate a six-pack when I see one.
But... he is wearing wings. He is wearing a gigantic man-sized tassel, some jeans, and wings. And sunglasses that make him look faintly alien, in combination with the wings that he is wearing. Because he is, indeed, wearing wings. Scaly-looking fug wings.
Unless you are an angel, a bird, or a maxi-pad, you should not have wings.
Posted by Heather at 02:08 PM in VMAs | Permalink
Comments
there.are.no.words.
I think you can almost see his "happy trail" though -- so there is that...
Posted by: blackbird | Feb 1, 2005 6:38:02 AM
ROFLMAO!!!
Posted by: Mush | Feb 24, 2005 1:05:33 PM
that six-pack is totally contour makeup.
Posted by: anna | Mar 15, 2005 1:32:42 PM
Hey, why even bother wearing pants!!!!

oolala, i'd like some of that close to home!!
rrrrrravishing. mmmmmmm. gimme some'a that.
Posted by: DarkChocolate | Mar 18, 2005 9:43:18 AM
tha's what i'm talk'n 'bout
Posted by: CocoaButta | Mar 18, 2005 9:44:04 AM
I'd be turned on if his poor, neglected head region weren't reminding me of my uncle. I imagine there are abdominal exercizes you can do while shopping for a more flattering pair of sunglasses and a new hairdresser.
Posted by: atsureki | Mar 24, 2005 12:19:29 AM
That haircut kind of reminds me of O.J., not a good look for Lenny. I know the tassle thing is probably suede but at first glance it looks almost like denim - which totally adds to the cheese factor. It's silly to wear wings to begin with but those are kind of small wuss wings. It looks like the store was out of adult wings and so they had to go with kid size, fuggin lame!
Posted by: agtdonut | Mar 31, 2005 4:13:56 PM
Or a house. Houses can have wings. But not Lenny. Never Lenny. It's just so . . . wrong.
Posted by: Rev. Brandy | Apr 6, 2005 7:32:59 PM
The comments to this entry are closed.