« Tuppence a Fug | Main | AMAs: Fug's Not Drunk, Fug's My -- Okay, She Is Drunk. »
November 15, 2004
AMAs Fug Carpet: Desperate Housefugs
This just in: Nicolette Sheridan has actually been transformed into a Barbie doll.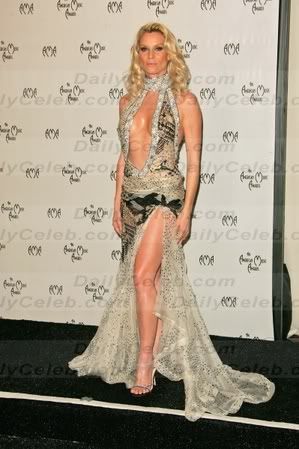 Note the telltale sheen between her preternaturally perky and unmoving breasts! The overly-lined eyes! The long, plastic blonde hair! The frozen facial muscles! The By Bob Mackie For Mattel dress! Frankly, it's all just a bit unseemly and embarassing.
Nicolette, we need to talk. Listen, lady, I hate to break it to you, but you're the least interesting part of an ensemble cast. Desperate Housewives' success depends not at all on the efforts of the first Mrs. Harry Hamlin. (Or the second Mrs Harry Hamlin, thank goodness. Or even Harry Hamlin.) You see, my dear, I know Marcia Cross, and you, Nicolette Sheridan, are no Marcia Cross. So, for the love of humanity and the corneal safety of this great land, please, please, please put your saline fun bags away and stop prancing around as though you are the second coming of Dr Kimberly Shaw, because the truth is that you are not, and also? You are seriously going to put someone's eye out with those things and that's going to be a bitch to clean up.

Posted by Jessica at 02:02 PM in Misc. Awards Shows | Permalink
Comments
BITCH, SOUNDS LIKE YOU ARE JEALOUS. NICOLLETE SHERIDAN LOOKS BETTER NOW THAN YOU DID AT 18 (50 YEARS AGO). YOU ARE UGLY CUNT HIDING BEHIND A COMPUTER SCREEN. I KNOW NICOLLETE SHERIDAN, AND YOU, "JESSICA", ARE NO NICOLETTE SHERIDAN. YOU ARE NOTHING AND YOU NEVER WILL BE ANYTHING. DIE WHORE!!!!!!!!!!!!!!!!!!!!!!!!!!!!!!!!!!!!!!!!!!!!!!!!!!!!!!!!!!!!!!!!!!!!!!!!!!!!!!!!!!!!!!!!!!!!!!!!!!!!!!!!!!!!!!!!!!!!!!!!!!!!!!!!!
Posted by: sdagfeawR | Mar 26, 2005 12:13:26 AM
YOU ARE FUCKING JEALOUS YOU UGLY BITCH
YOURE FUCKING HIDING BEHIND A COMPUTER SCREEN
KILL YOURSELF
UGLY ASS CUNT
Posted by: SADFDA | Mar 26, 2005 12:14:04 AM
Look kids, it's CrackWhore Barbie! Too much bleach, too much plastic, too little fabric. Yuck.
Posted by: Alice | Mar 31, 2005 2:45:40 PM
I actually like the frothy skirt. But, generally, when you skirt is slit up to your hip, it's not a good idea to have a neckline that plunges to your naval. Pick one or the other, or even better, neither. Also, that whole dress that connects to a choker thing is never a good idea, especially with sparkles. She looks sort of like Barbie is trying out to be a showgirl.
Posted by: Samantha | Apr 5, 2005 2:38:05 PM
I just want to know one thing:
Did she skin the snakes for that dress with her bare hands, cause she looks evil enough to do it.
Posted by: Jenny | Apr 8, 2005 3:44:05 PM
I actualy like the dress...it's not so bad...it the and the make-up that's puzzling
Posted by: [A]nn[A] | Apr 10, 2005 7:33:09 PM
The comments to this entry are closed.