« Wonderfug, Your Newest Superhero | Main | Fug Alone »
November 23, 2004
Fugly Matters
Oh, Steve Urkel. What would Stephan UrKel say?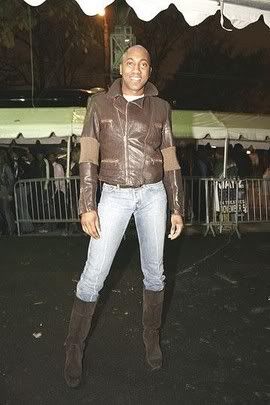 Photo courtesy of You Can't Make It Up.

Darling, pants that tight are bad for your boy parts. And let us not even speak of the well-pressed jeans tucked into the boots. No! No, hush! I said not to speak of it. It's simply too horrible to contemplate.
It is a point of controversy whether this is, in fact, Jaleel White. Controversy aside, I choose to believe that it is. And that he can't sit down in those pants.

Posted by Jessica at 11:13 AM | Permalink
Comments
Contrary to popular belief, all black people do not look alike. Therefore, I have used my black-race glasses you girls don't own to let you know THAT IS NOT JALEEL WHITE. C'mon..you choose to believe it is? Gimme a break!!!!
Posted by: Ange | Feb 17, 2005 7:29:49 AM
Is it just me, or did he steal this emsemble from Lionel Ritchie circe 1983?
Posted by: Mary T. | Mar 1, 2005 10:43:40 AM
oh dear God, i didn't think they made Man boots that high...those have to be woman shoes right?
Posted by: pink | Mar 4, 2005 6:34:17 AM
I actually have the real pics of this guy
in a close up shot you can see he's not
Jaleel White,,,,,, just somes crazy dude!
Posted by: chrissy | Apr 9, 2005 7:16:50 PM
The comments to this entry are closed.