« October 2004 | Main | December 2004 »
November 17, 2004
There's A Fug on the Field
This just in!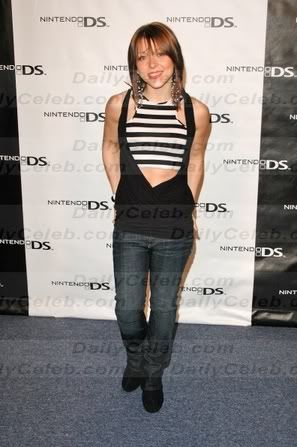 Photo Courtesy of Daily Celeb.
Ashley Peldon, sister of Courtney Peldon, has retired from her career of... um, you know, whatever it is she actually does... and has reimaged herself as a deranged Foot Locker employee, mid-rampage, or, perhaps, as sexy referee, except without the "sexy" and with more of the, "Oh my God, that's not a good look for you. Or anyone. Ever. Seriously, put on my coat."
What sort of penalties does one call as a sexy referee, I wonder? "Roughing the scrotum"? "Unnecessary use of tongue"? "Ineligible receiver"? Regardless, I call a time out.
Posted by Jessica at 10:54 AM in Courtney Peldon | Permalink | Comments (2)
November 16, 2004
Red Hot Chili Fuggers
Can we talk about Anthony Kiedis for a sec?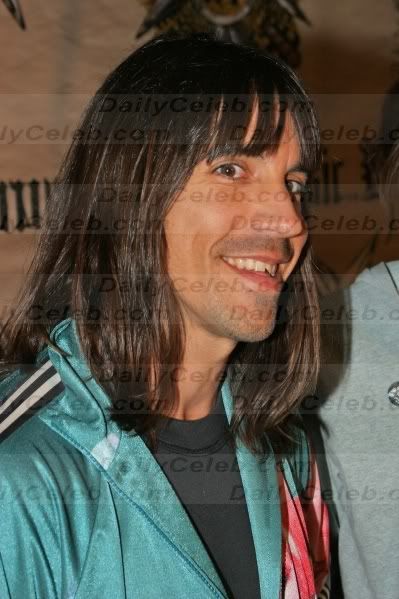 Photo courtesy of Daily Celeb.
Why is he wearing my hair from 1991?

Posted by Jessica at 02:24 PM | Permalink | Comments (3)
AMAs: Fug's Not Drunk, Fug's My -- Okay, She Is Drunk.
Bijou Phillips attended Clive Davis's AMA party with her brother, Austin.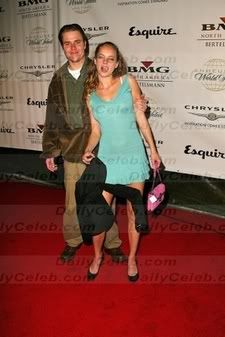 Photo courtest of Daily Celeb.
Austin is apparently not only Bijou's date for the evening, he is her handler and the guy who holds her upright while looking mortified. He then hands out cash to anyone Bijou may have attempted to beat with her handbag.
It is so hard to decide what I love most about Bijou's look. Her wide-open mouth, complete with chaw of gum? Her black eye? Her visible bra strap? Or her seafoam green ruffled mini-dress, which appears to be made of terry cloth and resembles nothing so much as the stool for a vanity table, in Palm Beach circa 1973?

Posted by Jessica at 10:37 AM in Misc. Awards Shows | Permalink | Comments (0)
November 15, 2004
AMAs Fug Carpet: Desperate Housefugs
This just in: Nicolette Sheridan has actually been transformed into a Barbie doll.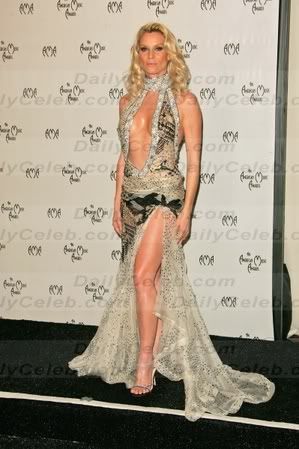 Note the telltale sheen between her preternaturally perky and unmoving breasts! The overly-lined eyes! The long, plastic blonde hair! The frozen facial muscles! The By Bob Mackie For Mattel dress! Frankly, it's all just a bit unseemly and embarassing.
Nicolette, we need to talk. Listen, lady, I hate to break it to you, but you're the least interesting part of an ensemble cast. Desperate Housewives' success depends not at all on the efforts of the first Mrs. Harry Hamlin. (Or the second Mrs Harry Hamlin, thank goodness. Or even Harry Hamlin.) You see, my dear, I know Marcia Cross, and you, Nicolette Sheridan, are no Marcia Cross. So, for the love of humanity and the corneal safety of this great land, please, please, please put your saline fun bags away and stop prancing around as though you are the second coming of Dr Kimberly Shaw, because the truth is that you are not, and also? You are seriously going to put someone's eye out with those things and that's going to be a bitch to clean up.

Posted by Jessica at 02:02 PM in Misc. Awards Shows | Permalink | Comments (6)
Tuppence a Fug
I am seriously in love with Crazy Courtney Love and I hope she never dies. I mean, honestly, the woman is (ostenibly) OFF drugs and yet look at what she's doing with her hair: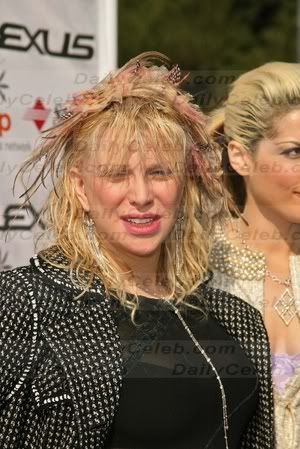 Photo courtesy of Daily Celeb.
Is it me, or is that an actual bird's nest? I expect her to burst into a round of "Feed The Birds."

Posted by Jessica at 10:12 AM in Courtney Love | Permalink | Comments (4)
November 12, 2004
Finding Fugland

[Photo courtesy of Daily Celeb.]
This poor child. I feel like Melora Hardin has a responsibility to that kid that she's neglecting -- specifically, that until it has popped out, it by necessity is wearing what she is wearing; therefore she ought not wilfullly choose to dress both the fetus and herself like a Las Vegas banister adornment. I think I actually saw her glued atop a stairwell at the Aladdin Hotel & Casino.
Unfair. At least wait until the kid can pop out and defend itself against such tyranny.

Posted by Heather at 04:49 PM | Permalink | Comments (0)
The Fugs At Night Are Big And Bright
Okay, so I don't know who Tara Jane is, but somehow she got invited to the US Weekly Holiday Shopping Hoedown, or whatever it was called, and she decided to go in shorts: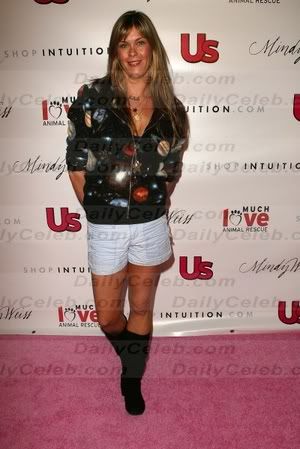 Photo courtesy of Daily Celeb.
I know it's Los Angeles, but it's also November and it gets cold at night and also why are you wearing SHORTS to an EVENT where there will be PHOTOGRAPHERS? Moreover, why are you wearing shorts that you bought in 1989 at the Wet Seal in the Montclair Plaza?
And why -- dear God, please tell me why -- why are you wearing them with flat-heeled black boots that may or may not be of the Ugg family?
Oh, and also? The bomber jacket? In fabric printed with planets and constellations? A jacket deemed too nerdy to be stocked at the Discovery Store? With those boots? And the shorts? Did I mention the shorts?
THEY'RE NOT EVEN FORMAL SHORTS, NOT THAT THAT WOULD MAKE IT ANY BETTER, REALLY, BUT STILL.
I know I say it a lot, but I really do need to lay down this time.

Posted by Jessica at 10:14 AM | Permalink | Comments (0)
November 11, 2004
Brother Of Fug
Can we talk about Jason Davis for a sec?
Photo courtesy of Daily Celeb.
The New York Post called him "bulky," which is, I believe, the new "husky." They don't mention that he appears to have made a coat of Fozzie Bear, which is surely against truth, justice and the American way.
Apparently, and deliciously, Jason "Brother of Oily Bohunk and Mischa Barton Lover Brandon Davis" Davis is the current paramour of Go Fug Yourself's Queen Bee: Courtney Peldon. Can you imagine the wedding those two would have? The ginormous fur puffers on the men? The sliced-to-the-crotch, slit-to-the-navel wedding gown? Bridesmaid Mischa Barton kitted out in something that resembles a shredded tarp?
Please God. Please let Jason Davis and Courtney Peldon get married. Please, please. She would be really happy with all of his money. He would be really happy with all of her...all of her. And I would die happy from all of the delectable fug.

Posted by Jessica at 02:38 PM in Courtney Peldon | Permalink | Comments (4)
The Fug Queen
We hate to admit it, but we're becoming sort of relieved that Courtney Peldon is continuing her streak of baffling and omnipresent celebrity without the accompanying fame and regular work, because it means we don't have to watch her practice any craft but the art of fuggery:
Enjoy the pink bra she's wearing under that translucent blue tank top; revel in the alternately tight and billowy skirt-pants -- clingy where it counts (hello, budding camel-toe!), loose everywhere else.
And it's always good to accentuate Things In Which One Might Do Yoga with bejewelled shoes.

Posted by Heather at 01:23 PM in Courtney Peldon | Permalink | Comments (6)
The Sum Of All Fug
Bridget Moynihan's new haircut makes her virtually unrecognizable:

Photo courtesy of Daily Celeb.
So harsh. So severe. So hell-bent on accentuating the pointy. Why, Bridget? Why? And has dating a football player resulted in you having the neck of a linebacker, or was that always the case and we just never noticed?
That same "Why, oh why?" question could be posed with regard to the satin pajamas she is wearing. They're very Dinner and Dancing at the Palm Beach Yacht Club With The Bridge Ladies.

Posted by Heather at 01:19 AM | Permalink | Comments (2)