« Finding Fugland | Main | AMAs Fug Carpet: Desperate Housefugs »
November 15, 2004
Tuppence a Fug
I am seriously in love with Crazy Courtney Love and I hope she never dies. I mean, honestly, the woman is (ostenibly) OFF drugs and yet look at what she's doing with her hair: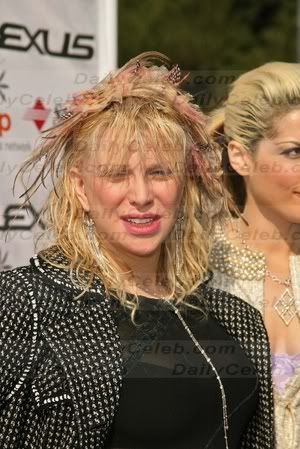 Photo courtesy of Daily Celeb.
Is it me, or is that an actual bird's nest? I expect her to burst into a round of "Feed The Birds."

Posted by Jessica at 10:12 AM in Courtney Love | Permalink
Comments
You just ruined Walt Disney's fave song from Mary Poppins. Now I'm always gonna think of Courtney.
Posted by: joe | Jan 31, 2005 3:13:25 PM
I can just picture her that morning (well, early afternoon probably) getting dressed, thinking the tweed, the tweed, the tweed is so proper looking, I'll 'balance it out' with my hair a bit undone because, you know, it's like make-up, you either make your eyes or your mouth the focal point. You have to choose, man.
Posted by: mso | Feb 1, 2005 5:43:19 AM
Courtney, just get it over with and have the sex change operation. Except for the hardware, you're already a man.
Posted by: Wilson | Feb 15, 2005 4:27:49 PM
I think the awfulness of the hair in that picture is beautifully set off by the chick with the chronic roots behind her. I can't believe, however, that no one has mentioned that hiddeous jacket that makes her look like a hungarian weight lifter. Maybe she's squinting off into the distance to see id Helga wants it back.
Posted by: snapDragon | Apr 4, 2005 8:13:14 AM
The comments to this entry are closed.