« Meet The Fuggers | Main | At Least She's Not Wearing THE HAT »
December 19, 2004
Happy Fugging Holidays: Letter of Fug III
Oh my God, you guys, merry Christmas! Happy Ch -- Han --- Chaan -- yeah, I totally can't spell that, y'all. The one with the candles and the potato pancakes like they serve at Arby's? Happy that! And Happpy New Year!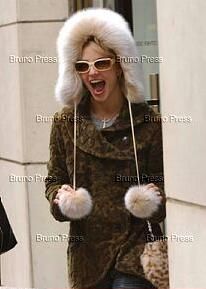 I just can't wait to see what happens in 2005, because I bet it will totally involve me having a little baby and then Cletus will love me forever for reals because when you have a baby with a lady you are not allowed to leave her, except for when that happened with Shar, but that's totally different because of how Shar wouldn't let Cletus do things that were really important to him, like how he's researching the medical effects of marijuana on his glaucoma.
I know you are totally wondering why I look so happy in my furry hat and the truth is that I am happy because my furry hat is actually kind of cute but I am really mostly happy because I am thinking about my awesome New Years resolutions, which totally rock, y'all. My New Years resolutions are to have a little baby and also to stay out of the way of the Fug Girls because they are really not very nice to me even I know they say what they do because they want the best for me and they're worried that I got worms from walking into public restrooms barefoot but what they don't know is that public restrooms are really very clean. But anyway I have two whole weeks to wear WHATEVER I WANT because Go Fug Yourself is going on Winter Holiday Hiatus until January 3rd and I am TOTALLY going to walk around barefoot with my thong hanging out and I'm not going to wash my hair or wash my face or brush my teeth for TWO WHOLE WEEKS because there's NOTHING THEY CAN DO ABOUT IT HA HA HA HA HA HA HA!
LOVE,
BRITNEY!
[Editorial note: if Britney does anything just mind-bogglingly godawful and terribly alarming, like get married again, we'll be on the case. Otherwise, dear readers, have a wonderful holiday and a fantastic New Year. Thank you for your readership and remarkable support of us this year, and we'll see you in 2005! Love, Heather and Jessica]
Posted by Jessica at 01:58 PM in Britney Spears | Permalink
Comments
I was in grade 9 when Britney Spears first cd came out. I was a huge fan and I still by the cds. I sincerely like the music and I really liked her.
In a business about appearances, why is she trying to ruin her own career. Britney if you read this, do you need a stylist? Because I'm free.
Posted by: halifaxhoney | Feb 1, 2005 8:44:43 AM
Inspired by Hedwig, Tribbles and Hostess Sno-balls
Posted by: Phinn | Feb 1, 2005 6:45:00 PM
Where has Britney gone?
There haven't been any fugly posts about her for a month and a half...I miss her. I mean, don't get me wrong, it's fun to see other celebrities fuggin' it up, but there's just something about Britney...
Bring back Brit (hey, that's alliteration) in all her fugliness please!
Posted by: amanda | Feb 2, 2005 3:56:33 PM
How convenient that all the anti-fug comments have been erased with your new site.
How about this: YOU go fug YOURself.
Posted by: Sugar | Feb 3, 2005 1:22:49 PM
Britney is a train wreck and everybody loves watching a train wreck. Picking on celebrities wouldn't be the same without her. :)
Posted by: Rowan | Feb 4, 2005 6:50:07 PM
Oh, just you gals wait until she's pregnant. I bet she makes a "statement" with tha belly and pulls a Demi with Rolling Stone.
Ooo! Ooo! What if she does a video at eight months? Can you imagine it? She probably puts out a special song just for Cletus "Cursed" Spears-Federline. Called...All I Ever Wanted or....Inside...something like that. And she'll kick it Everytime-style in the video, what with the pensive, knowing faces like she's Madonna, old, annoying, omniscient Kabballah addict - yoga hottie -earth mother version. Except Britney will have a belly to add to it!
Posted by: Rachel | Feb 4, 2005 11:10:05 PM
i love britney.
i hope she's happy with him.
he does seem kind of golddiggeresque but it would be cool if he was actually way awesome and she didn't just destroy her career and life for nothing.
fingers crossed.
Posted by: dangerlad. | Feb 25, 2005 10:26:51 PM
i'd like it way more if she took ownership of the hat. she's obviously like "look how goofy i am! i'm in a silly hat!" no, girl, you gotta pretend you're all down with the hat.
Posted by: candy | Apr 2, 2005 6:51:58 PM
The comments to this entry are closed.