« November 2004 | Main | January 2005 »
December 09, 2004
Billboard Music Awards: Backstage Fug
When did Kanye West become Mr. Rogers? One piece of bling and some ill-advised oversized shades do not undo the effect of your argyle, Mr. West -- indeed, they clash with it. As the old saying goes, "Poindexter can't also be a pimp."
Truer words were never not-actually-spoken.
Posted by Heather at 10:21 AM in Misc. Awards Shows | Permalink | Comments (0)
The Fug Code
"I pledge allegiance to the Fug of the United States of America. And to the fugpublic for which it stands -- one caftan, cut like a minidress, stuffed with boobs, with cleavage and leg-baring for all."

Posted by Heather at 10:16 AM in Courtney Peldon | Permalink | Comments (4)
December 08, 2004
Welcome To The Fug Blog, Bitch, II: The Fuggening
Thanks to the efforts of one our helpful -- and, in this case, extremely brave --readers, we can now present the entire horror of Mischa "Marissa Cooper Dresses Funny" Barton's misguided, bow-encrusted previously-mocked fashion atrocity:
Behold, the ill-fitting trousers. I've seen sexier pants on the PGA Senior Tour: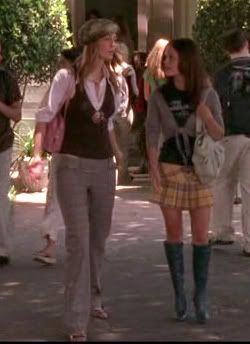 And the piece de resistance, The Bow: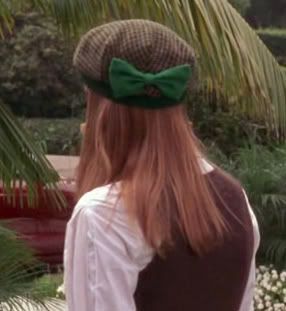 As Summer would say, "ew."

Posted by Jessica at 04:24 PM in Mischa Barton | Permalink | Comments (3)
You Live, You Fug

[Photo by Daily Celeb.]
Oh, Alanis. You look so happy these days, generally, and that's nice to see, but you just can't quite get the dressing thing down pat. This really is Scarlett O'Hara 2004 -- a velvet drape you wrapped around yourself and cinched with various scarves and a belt. Which you may have felt tied in the suede boots, but... it doesn't, Alanis. It really doesn't.
Although perhaps she already knows; her facial expression has a glint of, "You and I both know this thing used to hang from a pole in the Anthropologie dressing room, but let's just play nice for today, 'kay?"

Posted by Heather at 10:54 AM | Permalink | Comments (0)
Fug Doe
It's so nice to see actor Dominic Purcell dressing to impress at a Hollywood premiere:

[Photo by Daily Celeb.]
Maybe no one told him that his series John Doe was cancelled lo these many years ago, and that he can stop dressing as if he himself is an unremarkable and nameless man. Even if, in a way, he sort of is.

Posted by Heather at 10:41 AM | Permalink | Comments (0)
December 07, 2004
Fugliette Lewis
"Whaaaaat? You don't love camel-toe and skintight metallic pants? You mean... I'm not in Aerosmith? Shut up. You bitches just aren't rock-and-roll."

Posted by Heather at 06:24 PM in Juliette Lewis | Permalink | Comments (2)
Twenty-Fug
There's nothing necessarily overt about the fug Elisha Cuthbert has brewing here... except for the entire ensemble. She exudes a sad aura of stumpy dumpyness by wearing that slouchy blue shirt (with... is that illusion netting? You're not an ice dancer, sweetie) that gathers right where her hips should be. She's a slim girl who found a shirt that makes her look fresh from the pear tree.
And is it just me, or does that hair color look like she's reimagined herself as Marg Helgenberger? That's aiming a little high.
Posted by Heather at 06:20 PM | Permalink
"Sum Of All Fug" Update: Still Fugly
Just in case anyone was losing sleep over whether Bridget Moynihan grew out her terrible haircut, the answer is... no.
Such a pretty girl, all fugged up by a pair of scissors and some razor blades. And yet, those chiseled features, those hard lines, that oddly shaped mouth, that hair that looks like a trampled wig grabbed from the floor of Aah's! during a seasonal sale...
Are we sure she's not a drag queen? It would clear up all those pesky "Tom Brady is gay" rumors -- you know, the ones that dogged her pretty-boy quarterback boyfriend even before his brief fling with Tara Reid, America's Fugliest Silicone Beard.

Posted by Heather at 06:14 PM | Permalink | Comments (1)
Pieces of Fug. Again.
Dear Ashlee Simpson: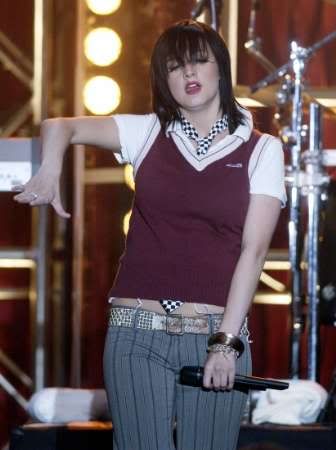 When Kelly Osbourne finds out that you're aping her look, she is going to kick your scrawny little ass. Sleep with one eye open.
We just thought you should know.
Love,
The Fug Girls
PS: No one's wearing pants that low anymore. We all got tired of having to get a Brazilian just to put on our jeans.
PPS: The sweater vest has never been sexy. It never will be sexy. It merely makes you look like you're a big Jack McFarlane fan, a goal we feel would be better accomplished through extensive use of jazz hands.
PPPS: Girls in ties are also over. I don't recall that look ever really working, unless you were Molly Ringwald or Shannen Dorherty as Brenda Walsh -- the former because, you know, she dressed kooky and latter because if you expressed dislike of her outfit, she'd cut you.
PPPPS: Hey, how's your acid reflux?

Posted by Jessica at 01:31 PM in Ashlee & Jessica Simpson | Permalink | Comments (13)
December 06, 2004
Thanks From The Fug Girls!
Thanks to A New York Escorts Confessions for featuring Go Fug Yourself this week in her Carnival of Sin. Likewise, a big thanks to the people who nominated us for Best Humor Blog in the 2004 Weblog Awards, and those who nominated us for Best New Journal in the Diarist Awards. It is, as they say, an honor just to be nominated.
Posted by Heather at 01:38 PM | Permalink | Comments (0)