Dear Ashlee Simpson: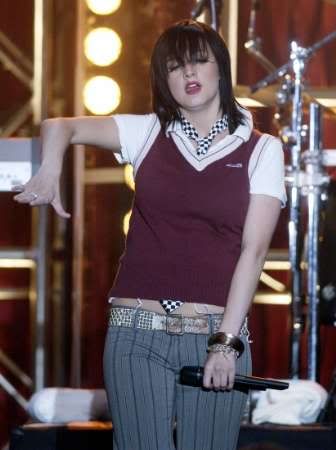 When Kelly Osbourne finds out that you're aping her look, she is going to kick your scrawny little ass. Sleep with one eye open.
We just thought you should know.
Love,
The Fug Girls
PS: No one's wearing pants that low anymore. We all got tired of having to get a Brazilian just to put on our jeans.
PPS: The sweater vest has never been sexy. It never will be sexy. It merely makes you look like you're a big Jack McFarlane fan, a goal we feel would be better accomplished through extensive use of jazz hands.
PPPS: Girls in ties are also over. I don't recall that look ever really working, unless you were Molly Ringwald or Shannen Dorherty as Brenda Walsh -- the former because, you know, she dressed kooky and latter because if you expressed dislike of her outfit, she'd cut you.
PPPPS: Hey, how's your acid reflux?