« Major Gratitude | Main | Random Fug »
January 25, 2005
Can I Check Your Fug?
Tired of the endless glam grind, Maggie Gyllenhaal retires from acting and opens her own filling station: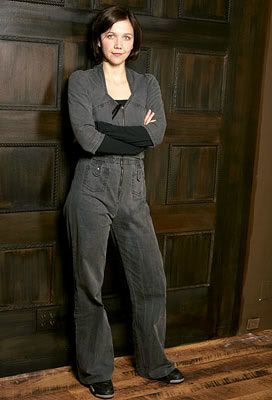 Posted by Jessica at 01:09 PM | Permalink
Comments
Um she totally has one of those camel toes men get with their nuts. gag
Posted by: AyEnDeeAreEeAyAitch | Jan 31, 2005 12:20:55 PM
Oh, she *really* needs a spanking. Where is James Spader when you need him?
Posted by: Phoenix | Feb 1, 2005 8:53:54 AM
Love this jumpsuit! V. cute.
Posted by: ms | Feb 1, 2005 10:25:04 AM
I think I had a jumpsuit just like that in 1972!
Posted by: Wendy | Mar 14, 2005 6:15:52 PM
Um, that actually works for La G. I'm just sayin'.
Posted by: kd | Mar 28, 2005 12:24:13 PM
The comments to this entry are closed.