« For Immediate Release: DON'T BE SO STABBY | Main | The Fug Lady »
January 21, 2005
Fuggin Up
Behold Daniella Monet, of the Jason "Costanza" Alexander tragedy Listen Up, at the CBS/UPN TCA party: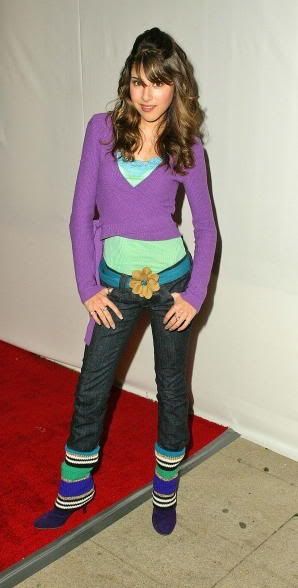 Photo courtesy of Daily Celeb.
The purple boots? The striped legwarmers, carefully chosen to coordinate exactly with the sweater/shirt debacle? The flowered belt?
She would have been better off with the Urban Sombrero.
Posted by Jessica at 11:08 AM | Permalink
Comments
Okay.. first the care bears, then strawberry shortcake.. now, apparently Rainbow Brite is back in fashion?
Posted by: Amy | Feb 15, 2005 7:27:01 PM
OMG! Punky Brewster reincarnated!
Posted by: anna | Mar 28, 2005 9:46:53 AM
why do so few people make that ever-important investment known as a mirror, let alone splurge for the full-length variety?
Posted by: jenie | Mar 28, 2005 12:34:03 PM
The comments to this entry are closed.