« Fuggis Hilton | Main | 2005 Golden Globes: Lisa Marie Presley »
January 27, 2005
My Fug Don't Cost a Thing
In a desperate attempt to outrun the paparazzi, Jennifer Lopez cut through neighbor Rue McClanahan's back yard, becoming inextricably entangled in the older woman's guest room curtains, which had been hung on her clothesline to dry: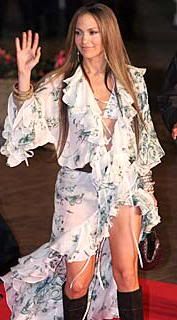 Late for a premiere, Ms Lopez allegedly said, "eh, screw it," and just cinched it.
Posted by Jessica at 03:18 PM in Jennifer Lopez | Permalink
Comments
And the heavy black go-go boots cutting off her legs just below the knee really make it work, right? Right?
Posted by: Darla | Jan 31, 2005 1:55:32 PM
Mamita:
Te AMO aunque no estes vestida!!!!!
Posted by: Fulano De Tal | Feb 1, 2005 6:01:51 AM
Fugging on purpose for attention. Publicity whore that she is. GO AWAY!!
Posted by: avalonn | Feb 1, 2005 3:33:36 PM
Rue McClanahan is spicey. J Lo is over...
Posted by: Derella | Feb 1, 2005 4:30:53 PM
J.Lo..u have big thighs, you're short... why would you wear such a "dress"?
Posted by: Silvia | Feb 3, 2005 10:34:05 AM
Now I love me some La Lopez - "big" thighs, Versace dress, stupid movies, and all - but that shirt-dress thing is heeeedeous. I don't even think Fabio would dig that for his latest cover.
Posted by: supri | Feb 3, 2005 8:43:18 PM
I was just watching Gone With The Wind. That thing looks like Scarlett's barbeque dress after a bayonet enocounter.
Posted by: Ella | Mar 19, 2005 12:34:58 PM
The comments to this entry are closed.