« December 2004 | Main | February 2005 »
January 24, 2005
Major Gratitude
We'd like to offer huge, blushing thanks to the voters for the 2005 Bloggies, who collectively named Go Fug Yourself a finalist in three categories: Best American Weblog, Best Group Weblog, and Most Humorous Weblog.
We are flattered beyond belief, and consider ourselves blessed for the support. If we win, we will light a candle to Courtney Peldon. If we lose... well, we'll still probably light a candle to Courtney Peldon, because let's face it, her poor taste has been an inspiration.
Posted by Heather at 04:32 PM | Permalink | Comments (0)
Project Fugway
Dear God. Leonor Varela's "dress" looks stolen from a Project Runway challenge, in which the contestants had to make a frock using nothing but heavy-duty Glad trash bags.
Posted by Heather at 03:44 PM | Permalink | Comments (2)
2005 Fugdance Film Festival: Keira Knightley
Keira looks like she's shooting the touching final scene of Just One of the Guys II: Still Pretending To Have A Penis, wherein her character's deception has been revealed, and she's dressing like a proud 1980s female again even though she's completely ruined her hair.
Posted by Heather at 03:37 PM | Permalink | Comments (2)
Random Fug

[Photo courtesy of Daily Celeb.]
I don't know who this so-called "Erica Durance" is, but I do know that she forgot to take off her bib before heading into the party. How embarrassing.
Posted by Heather at 03:29 PM in Random Fug | Permalink | Comments (1)
SwimFug
Erika Christensen has clearly had a break with reality: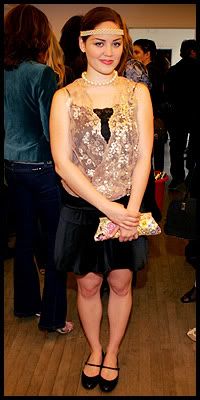 Photo thanks to a reader.
In her mind, it's 1920. She's heading to a big 19th Amendment bash and she's casting her vote for Fugly P. Fugly of the Fugly party. You can tell she's a Fuglyist by the headband.
Also, the lace vest.
And the shoes.
And the way the hem of her skirt makes her look like she's squatting, when she's really standing up straight.
And the choker.
And the headband. Did I mention the headband? Because there is a headband.
I certainly hope the appeal of Prohibition comes quickly in Erika's reality, because it seems that she's been hitting the moonshine. And you know that stuff will make you go blind.
Posted by Jessica at 12:22 PM | Permalink | Comments (0)
Nice Day For A Fug Wedding
Congratulations to Melania Knauss, now Trump, who by all reports made it down the aisle in the above dress without anyone trying to suspend her from a curtain rod, and without her needing to be towed from place to place. Happily for her, Trump was allegedly still able to navigate around the pounds of fabric and ruffle, and through the swath of mosquito netting around her face, so that he could smooch her three times at the altar.
And so, in honor of overwrought celebrity wedding fugliness, we bring you a flashback photo to one of my personal favorite -- by which I mean, least favorite -- wedding dresses in history: The bejewelled meringue sported by Celine Dion the first time she swapped vows with her old, portly manager whom she met when she was twelve.
That's not a veil; that's a headdress.
Posted by Heather at 11:13 AM | Permalink | Comments (4)
January 21, 2005
Fugeron Diaz
Star Magazine is reporting something about Cameron Diaz that I deeply, dearly hope will actually come to pass:
Cameron Diaz won't be wearing a traditional white dress for her wedding to Justin Timberlake. She wants to be married in a traditional Native American dress and has hired a designer to assemble an outfit with beading and moccasins.
Now, before hoardes of teenagers -- and a few adults who need to go outside more often -- hurl themselves onto the sharp spikes of their aborted, doomed love for the Timberlake, please be advised that we have no idea if this rumored wedding is true. But we do know this: Those will be some seriously hilarious pictures.
I have no problem with Native American dress; I just think Cameron Diaz will look ridiculous. And I'm salivating a little.

Posted by Heather at 04:28 PM | Permalink | Comments (0)
La Fug Nikita

[Photo courtesy of Daily Celeb.]
Poor Peta Wilson. Her pants have gobbled up her left foot, her right foot is teetering on the edge of the same grisly fate, and she's simultaneously getting mauled by a strange woodland creature. So sad.
You know, if that thing is made of real fur, then there's suddenly a delicious irony to Peta Wilson's first name.
Posted by Heather at 02:34 PM | Permalink | Comments (0)
Mischa Fugton
Somehow, in a way I can't articulate, Mischa Barton looks like something you might find in a Bed, Bath and Beyond: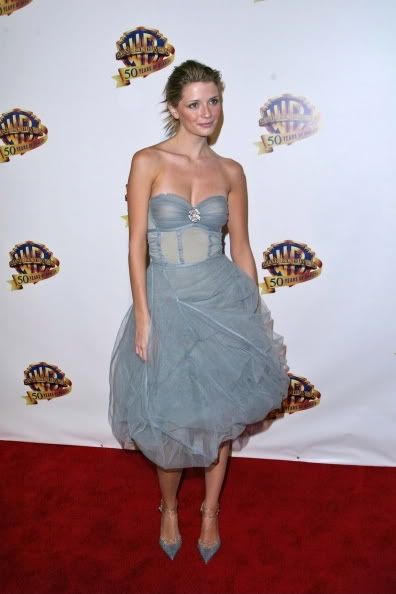 [Photo courtesy of Daily Celeb.]
Now, I like the color. I think I also like the shoes. But the dress has an unfortunate "tulle lampshade" look to it, which might not matter, if the dress didn't also add her to the list of people who put on strapless things that make their breasts look like they're sinking like stones. Not to mention that it exposes those kicky tan lines stamped on her torso.
Posted by Heather at 02:28 PM in Mischa Barton | Permalink | Comments (20)
The Fug Lady
I question the choice of whomever dressed Laura Bush for this inaugural gala: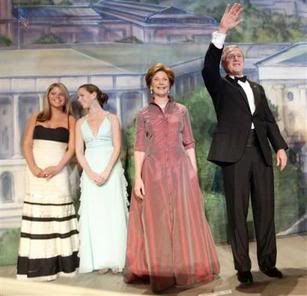 Any inaugural occasion would seem to demand something more formal than what is basically an extremely oversized shirt. The horrendous backdrop coupled with her Little Ma On The Prairie getup gives the impression that the President randomly showed up at a production of Little Mary Sunshine, and wandered on-stage during the curtain call to congratulate the cast.
Posted by Heather at 11:12 AM | Permalink | Comments (2)