Um, Drew? Hey! Hi! How are you? Enjoying Fashion Week? Me too. Um, can we talk? Great, great. Um, how should I put this?
Look, you are so cute. You seem really fun and nice and I think you have an adorable little body. But, and I know it's Fashion Week and people get a little avant garde, but...tights are not the same thing as pants. They're just not. And I'm pretty sure you're wearing a shirt as a...dress? Is that what you're doing? I'm kind of not sure. It's kind of not working. I think I have some jeans in the car! Do you want to borrow them? You can totally borrow them.
Because the thing is, I know you can look totally fab! See, look yourself earlier this week: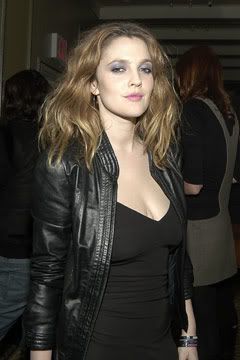 Fierce! Fierce and hot! So maybe later, when you're getting ready to go out again, you should hold the latter look -- fierce and hot! -- in your mind, instead of the former. Which was, I really hate to remind you, but it's for your own good, I promise, sort of, um...pantless and bizarre.
Okay! Loved you in Firestarter. Really!