We have a situation, people. It's serious.
You've probably heard the good news about Affleck. He's managed to fight off the Bloat -- thanks, we suspect, to Jennifer Garner's good influence -- and, despite occasionally appearing in public dressed like nattier version of the Unibomber, seems to be crawling back to being the smarmy-hot Bffleck we hate to love.
Exhibit A: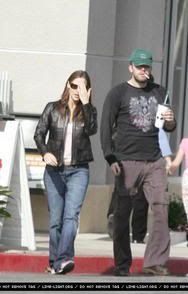 What you know, however, is that The Bloat is like the plague: highly contagious and almost impossible to contain. It appears that Affleck infected fellow actor Jon Favreau, probably when he appeared with Garner on Favreau's show Dinner for Five.
Please note Exhibits B and C, recent photographs of formerly Chunky But Hunky Favreau. Be aware that these are graphic images.
Exhibit B: Favreau with wife at Hide and Seek premiere. He appears, in addition to having a severe case of The Bloat, to have contracted Lumberjackitis [note the misuse of plaid.]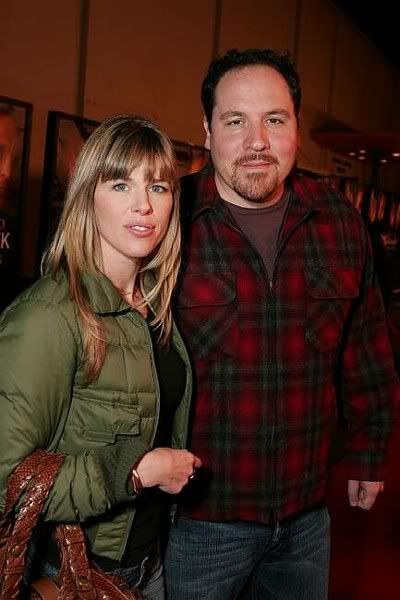 Exhibit C: Favreau at the Be Cool premiere.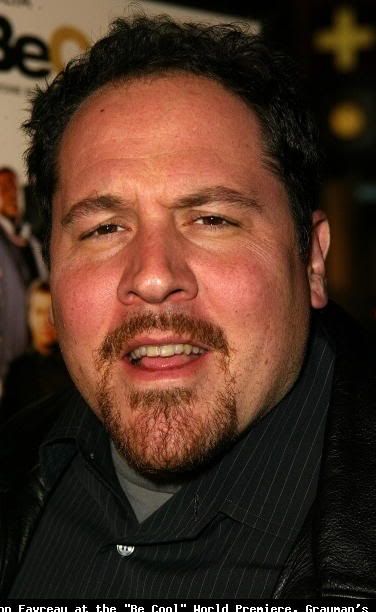 We here at Bloat Watch are very, very concerned about Favreau. Because he hosts the aforementioned Dinner for Five, and due to The Bloat's high level of contagiousness, it is certainly possible and indeed likely that he will pass The Bloat to countless celebrities unless his case is contained.
Therefore, we have catagorized Favreau's Bloat Level as SEVERE: MY GOD, MAN GET A HOLD OF YOURSELF, both due to its severity and due to the danger it poses to the Hollywood community. [For your elucidation, a complete chart of The Bloat Terror Levels is included in the Appendix.] We are asking all of you on the task force to be on the alert. If you see Favreau, please take precautions, such as throwing wheatgrass juice on him; chasing him away (which will both get you away from his contagion, and force him to exercise); or speaking to him seriously about the dangers of the Bloat, which include: death, ending up on the cover of The Star under the headline "LOOK WHO GOT FAT?", and being shamed into a recurring role on Fat Actress.
Thanks, guys. Be safe out there.
Appendix: BLOAT WATCH TERROR LEVEL CHART
SEVERE:
MY GOD MAN, GET AHOLD OF YOURSELF.
HIGH:
Think about getting back on the smack.
ELEVATED:
Seriously, cut down on the sodium.
GUARDED:
Maybe look into a seaweed wrap?
Low:
Keep up the good work.