Poor J. Simp.
First, Paris Hilton's T-Mobile gets hacked and the entire world reads that, among other juicy tidbits, Justin Timberlake shot Jessica down and she had to settle for nailing Adam Levine, and that she's addicted to the power.* And now, this: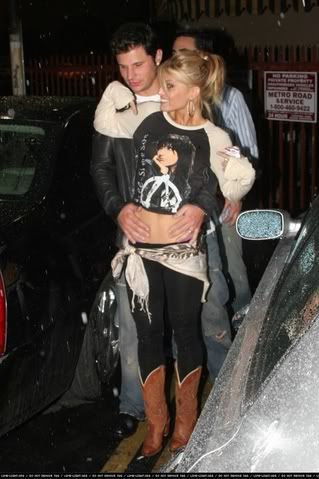 Sigh. The Scarf Tied Around the Leggings is this millennium's variation on the If I Tie This Sweater Around My Hips, My Ass Will Look Smaller epidemic of 1995. You might feel like some camouflage work has been done, but it's really just drawing attention to the very area you're trying to conceal.
And then, there's the shirt. In a way, it's supportive and sweet of Jessica to be wearing Ashlee's merchandise. On the other hand, man, that's a bad concert tee. If only Tee Shirt Ashlee was wearing a shirt that had Jessica on it. And if the Jessica on this fictional tee shirt was wearing a shirt that had a picture of Ashlee on it, then....wow, now my head hurts.
Let us not even speak of the Return of the Leggings. No. Hush. I can't handle that today.
*Allegedly. Look, I'm just repeating what I heard from Paris.