« February 2005 | Main | April 2005 »
March 31, 2005
Go Fug Yourself
Dear Readers,
First of all, thank you for your readership. Your support has meant so much to us since we started GFY. We've had a lot of fun, and we've learned so much in the last several months.
That being said, we've thought about it a lot and we decided we'd like to take our personal project in a different direction going forward.
Please check it out.
Cheers!
Heather and Jessica
Posted by Jessica at 11:32 PM | Permalink
Desperate Fug, Random Fug
I love pants. And some people really need to consider wearing them:

[Photo courtesy of Lime-light.org.]
Nicolette, even if you are on a beach vacation, if you are walking through town then you should wear SOME form of bottoms. I'm not asking for cute, or matchy. Just coverage when you are not on the beach. Come on, lady. You're great on your show. Buy a skirt.
And yet some people deploy pants carelessly. Too carelessly.

[Photo courtesy of Daily Celeb.]
Sigh. A dress over jeans? I thought we were over this, Kim Director, Random Starlet With Cute Little Industry-Appropriate Surname. I thought we were done making jokes about whether the person hadn't shaved in two weeks, or cracking wise about a waxing accident. I thought we were through speculating what the point is of wearing a frock over pants, especially one so long that it would make a perfectly sexy dress if worn on its own with some hot shoes.
[We haven't really debated why the world needs a discount version of Debi Mazar, but then again, maybe the world doesn't, and that's why most people haven't heard of Kim Director just yet.]
Posted by Heather at 09:42 AM in Random Fug | Permalink
March 30, 2005
Rachel Fugson


Who told Rachel Bilson she looked cute in this? Was it Mischa? It must have been Mischa. Rachel: NEVER LISTEN TO MISCHA. Her boyfriend is a walking flake of dandruff.
I wish this were a better shot of the full outfit, but even at this angle, I can tell that it's bringing me pain. Each piece looks like she stole it from a costume department: that white thing would seem to be petticoat-esque, as if it's never actually supposed to see the light of day because Dr. Quinn's best surgical dress always goes over it, and that vest feels like Pa Ingalls would be fixin' for a tantrum if he found out she'd ganked it from his trunk. It's four sizes too big.
Don't dress like a dumpster-diver, Rachel. You're too cute for that. And it's not like shirts at Forever 21 cost more than twelve dollars -- splurge a little, okay? If you need help, give us a ring.
But don't call Mischa.
Posted by Heather at 02:18 PM in Rachel Bilson | Permalink
Fugshanti
Ashanti has no faith in her appeal to Star Wars devotees. If she did, she never would have risked going out in public wearing the skin of an Ewok:
This coat looks like a muppet is trying to cop a feel.
Posted by Heather at 12:05 PM | Permalink
Emmy Fuggum
I like to eat meringues. I don't love to see dresses made in their image.
The bottom part looks like it's inflatable, but that she got bored mid-puff and bolted for the red carpet. Somebody please pop it.
Posted by Heather at 11:11 AM | Permalink
The Least Climactic Playboy Spread Ever
Word hit the wires today that a longtime source of GFY bafflement, alleged actress Bai Ling (okay, we know she's been in stuff, but still -- Sky Captain blew), will be posing for Playboy.
According to the linked blurb, Ms. Ling has said she was "shocked" by the idea but that she is willing to make "sacrifices for the sake of art."
And so we ask: What, exactly, is she sacrificing?
Certainly not the the zeal with which she guards her breasts' privacy. Certainly not modesty. Indeed, certainly not terribly many clothes.
Perhaps she's just concerned about forsaking her right to wear a satin potato sack. Either way, Playboy isn't going to do much that a stiff breeze probably hasn't already achieved.
Posted by Heather at 10:50 AM in Bai Ling | Permalink
March 29, 2005
Mr Fug
Michael Madsen is really cleaning up good, don't you think?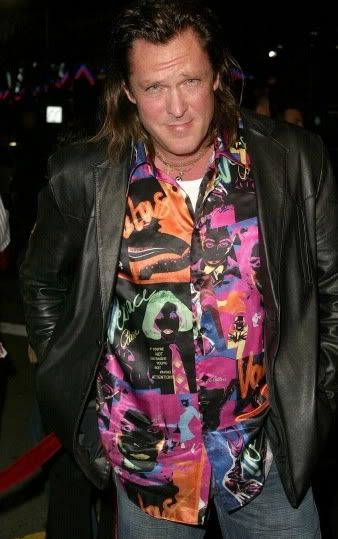 You know, if he's cleaning up for a round of Busey Or [Insert Bloated, Strung-Out Actor Here].
Posted by Jessica at 10:35 AM | Permalink
March 28, 2005
HollaFug Girl
I think La Stefani needs her own category, don't you?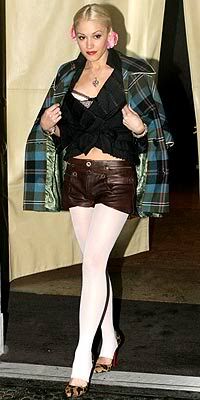 [reader-submitted photo]
She looks like a deranged showgirl, sneaking out the stage door after her performance in the widely panned Evita: The Hot Pants Years.
Posted by Jessica at 11:56 AM in Gwen Stefani | Permalink
March 25, 2005
Fuggi Miller
Nothing like a sartorial tribute to Gladiators:

[Photo courtesy of Daily Celeb.]
But the dress itself -- whose merits in my eyes are few, but at least it doesn't make her look psychotic/naked/homeless -- pales in comparison to her hair, which looks like she was corraled by a particularly effective Fuller Brush salesman on her way to the event. If you turn her upside down, you can use her to scrub those hard-to-reach places, like under the refrigerator.
Posted by Heather at 12:58 PM | Permalink
Celebrity Boob Watch: Andie MacDowell
Andie MacDowell needs to install a warning beeper on her torso. That way, if she accidentally leaves her headlights on, she will be warned:

[Photo courtesy of Daily Celeb.]
Ignoring the humor of her askew nipples, which could be nature or could be the unique nurture of a shitty plastic surgeon: Does she just have particularly bumpy areolae, or are the twins taking a steely stand despite already sporting a pair of those paste-on flowers that are supposed to treat and prevent Nippleitis? In the case of the former: No bra equals no satin. Period. And in the case of the latter... well, ditto; perhaps she should have a blanket stand against this unforgiving fabric. Because, really, I don't know her life. So I certainly don't need to know the contours of her mammaries.
Posted by Heather at 11:57 AM in Celebrity Terror Watch | Permalink