Fergie, currently of The Black Eyed Peas, but known to me now and forever as Stacy from Kids Incorporated, decides that if one trend is good, seven trends must be better: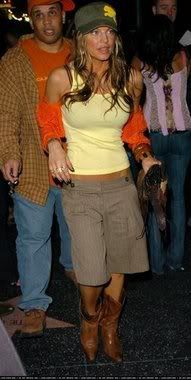 Cowboy boots? Check.
Trucker hat? Check.
Pants of unflattering and awkward length? Check.
Shiny cardi-shrug? Check.
Oodles of jewelry? Check.
Tanorexia? Check.
Anonymous male escort who looks vaguely ashamed to be with you, especially since there are photographers around and oh my God, y'all, what if they think we're dating when I'm actually just friends with your friend and I accidentally ended up in this picture SWEET GOD I DON'T ENDORSE THIS OUTFIT, PEOPLE, PLEASE DON'T THINK I DO.