I'm having conflicting emotions: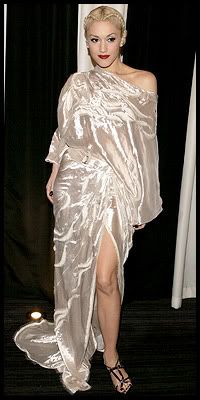 [Photo courtesy of Daily Celeb]
Am I overcome with relief about the fact that Gwen has finally, apparently, jettisoned her posse of silent Japanese schoolgirls? Or am I deeply disturbed that she's apparently decided that her new look is Toga Party Chic? Does this mean that she's going to trade the schoolgirls in for for a bunch of drunk frat boys, draped in old Star Wars bed sheets, doing beer bongs and keg stands on the red carpet? And what does it say about me that I'd sort of prefer that? And that by "sort of," I mean, "totally"?