« March 2005 | Main | May 2005 »
April 24, 2005
Fug, By Nicky Hilton
In a move that's a bit like asking Joan Rivers to give you a face-lift just because she's had eleventy-five of them herself, heiress and renowned do-nothing Nicky Hilton has begun designing clothes. And what perma-puckered-up shop would possibly plant so gushy a smooch on Ms. Hilton's Mystic Tanned behind? That would be the L.A. boutique Kitson, once fun but now intoxicated on the juice of its own ubiquity, which has fermented in the spotlight liberally afforded it by celebrity-stalking magazines.
So get thee to Kitson immediately if you want to buy a pair of jeans for $100 that a) look like Nicky based them on those old Calvins she drew on in fourth grade, b) have had the pockets removed, but boast a shadow of dark denim there as a nostalgic nod to what once was; and c) make a skinny model's butt look diaper-clad, or as if it belongs in orbit around the sun.
(And while you're there, don't pass up the rain-and-ice cream-themed hoodie, which I believe is either abstract art decrying lactose intolerance, or a picture Nicky drew in her youth entitled, "It's Fun When Nanny Cries").
Posted by Heather at 11:09 PM in Paris & Nicky Hilton | Permalink
April 22, 2005
To Whom It May Fugcern
Over the past few weeks, the comments have spiraled out of control. We're closing them for the foreseeable future.
Posted by Jessica at 12:13 PM | Permalink
April 21, 2005
Random Fug

[Photo courtesy of Daily Celeb.]
Good luck at clown college, Jennifer Hall!
Posted by Heather at 12:28 PM in Random Fug | Permalink
Fug World
Here's the thing: I love Posh and Becks. She's so deliciously tacky and he's so…you know, extremely hot in that No, No, Don't Speak sort of way.
Said dichotomy is well illustrated below: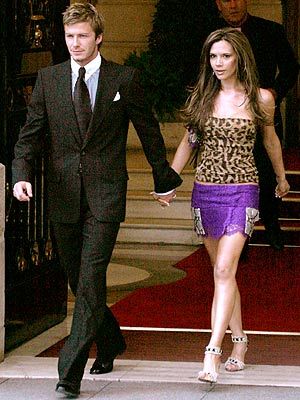 [Reader submitted photo]
He looks luscious. She looks like her stage name is Luscious.
That being said, I hear her autobiography is really rather brilliant.*
* No. I've actually seriously heard that.
Posted by Jessica at 10:10 AM in Posh & Becks | Permalink
April 20, 2005
Random Fug

[Photo courtesy of Daily Celeb.]
These pants are:
a) Part of a performance-art campaign that urges you to choose static cling and be proud of it;
b) Shrinking up in fright, because they don't want to touch crusty, untied brown boots that look like they've been outside all day doing yardwork;
c) The loving creation of an epileptic orangutan.
I just can't decide.
Posted by Heather at 11:00 AM in Random Fug | Permalink
Still Fugging
Remember when Renee Olstead played that cute kid in 13 Going On 30 whom Jennifer Garner befriends?
Well, fine, we didn't either, until we looked her up, but that's not the point. This is:

[Photo courtesy of Daily Celeb.]
No, it's not Hallowe'en, and yes, this girl is both a) fifteen, and b) under the delusion that she is Kelly Osbourne. What is wrong with her? She looks like a Goth showgirl.
Posted by Heather at 09:12 AM | Permalink
April 19, 2005
Fug It Like Fugham
Why does Keira Knightley look like an adult extra in Annie's slum scenes?

[Photo courtesy of Lime-light.org.]
It's a hard-knock life, indeed.
Posted by Heather at 08:56 PM | Permalink
Fug Unit
Things I Learned Today:
There is a Zappa named Diva: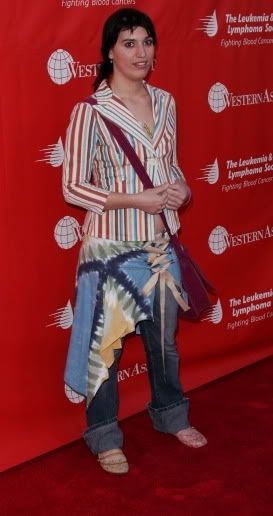 And she can't dress herself.
Seriously, the stripes? The tie-dyed skirt THING? The mismatched shoes? The messenger bag? The exposed skin? I mean, there's Quirky and then there's Legally Blind, and I worry she might be the latter.

Posted by Jessica at 03:12 PM | Permalink
April 18, 2005
Fug-Eyed Fug
The reign of the Formal Shorts must end.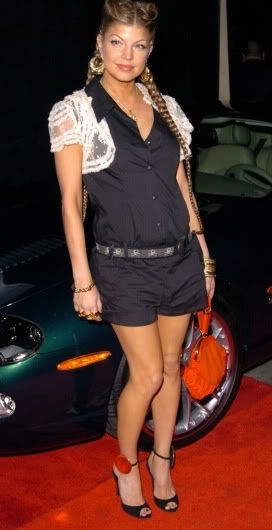 [photo courtesy of Daily Celeb]
Seriously.
Posted by Jessica at 01:33 PM | Permalink
April 15, 2005
Young Hot Hollyfug Awards
Remember that Simpsons episode where Homer invents a makeup gun, and shoots Marge with it, only to find out he accidentally had it set on "whore"?

[Photo courtesy of Daily Celeb.]
Also, somebody please tell Bobby Trendy that when we call him a tool, we are NOT spelling it "t-u-l-l-e." Put away the Barbie stole, please, Bobby, and go back to upholstering yourself into a chaise lounge. I can see you're already halfway there.
Posted by Heather at 11:42 AM in Misc. Awards Shows | Permalink