Meet Samantha Jade. I'd tell you what she's done to wrangle an invite to the Nickelodeon Kid's Choice Awards, but I have no idea. And IMDb is no help. And when IMDb is no help, you really are in dire celebrity straits.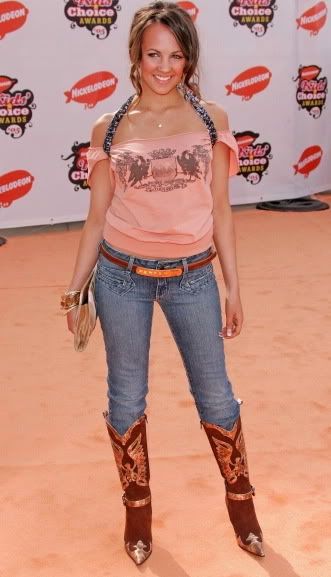 [Photo courtesy of Daily Celeb]
I suspect most of the wrangling she's done -- judging from her outfit -- involves steers. Or snakes, since she appears to have fashioned a primitive halter strap from the hide of a defenseless rattler. Or even cotton -- sweet, innocent cotton -- which has clearly fallen prey to her merciless shears in the name of ugly tops.
You know that old adage about looking at yourself in the mirror before leaving the house and removing one accessory? Ms Jade would do well to heed that adage, and save countless cows, snakes and human eyeballs.