« May 2005 | Main | July 2005 »
June 24, 2005
Fugger In The Dark
What the...? I don't understand:
I know Bjork is not on the same plane as the rest of the sentient world, but ... what is that thing? It's... a cape! A coat! A caftan! A cocoon! A child's crudely built bedroom fort! Perhaps a copy of The Lorax just spat her out onto the street, Thneed and all. The ejection would certainly explain her mood.
Posted by Heather at 07:10 AM | Permalink
June 23, 2005
The Fug Queen Is Back, Slowly But (We Hope) Surely
Lo! Two Peldons!

[Photo by Daily Celeb.]
Brown Peldon needn't look so proud of her skirt. I think I had one of those in my old dress-up drawer, into which my mother would dump old clothes and aprons and whatnot so that, as a wee young fugger, I could costume myself and prance around the playroom pretending to be a princess/beleaguered fry cook/prairie heroine/Annie. Of course, Brown Peldon's skirt looks more like she sewed a tablecloth over the tulle dress she wore in her first grade talent show (which is quite possibly the largest audience ever to have been privy to her work).
Our girl Courtney, however -- aside from having feet that are disappearing underneath her too-long white jeans -- has every right to look thrilled. Because she has totally snookered us. She has absolutely passed that shirt off as couture, rather than the exact same tank her sister is wearing, but in fuschia and with a $1.99 lei from Joe-Mac's Discount Party Supplies & Pawn Shop stitched jauntily to the top. Look at her, just gloating over the fact that you are so very fooled by her cunning.
Welcome back, Courtney. It's no cat shirt -- no genie jumpsuit -- but it's madness nonetheless.
Posted by Heather at 02:54 PM in Courtney Peldon | Permalink
Fug Anthony
"No, no, everyone. I'm fine.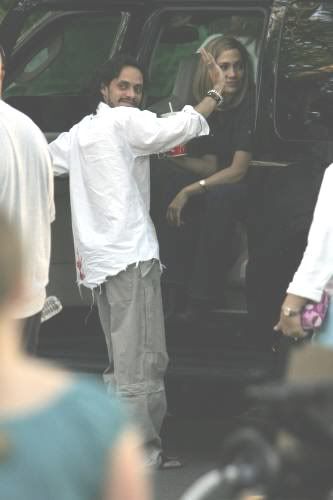 I'm fine. Nothing to see here! Just bringing my wife a Big Gulp. No, no, I told you, I'm fine. Seriously, I'm totally fine. I don't need that IV drip. I mean it. Back off with that shit. I don't need the sugar water. I'm FINE.
Yeah, so maybe I got chased here by a pack of rabid dogs that ate off the bottom of my shirt. So what? Nothing I can't handle. Me and my Jesus sandals and my raggedy-ass facial hair have never been better. Just here visiting the wife! Never been happier. She and I are right as rain! There's no crying about that bitch Garner in my house, no siree! We're both a-okay, and that's not blood on the back of my shirt. Not at all. So step off."
Posted by Jessica at 11:15 AM in Jennifer Lopez | Permalink
Fuglylicious
What the hell is Beyonce wearing?
I'll grant that Beyonce is so far the only person for whom boho-chic has been a blessing, because it has purged her stylist-mother's mind of hot pants, but... seriously, what is wrong with Tina Knowles? Did someone buy her a subscription to National Geographic? The other two look relatively normal, and then Miss B up on the right is clad in a pattern and color scheme that is probably in the running for a redesign of the seat covers on Southwest Airlines jets. Not to mention the incredibly helpful belt that is hanging limply around her waist, useless as a meatball sub on Nicole Richie's kitchen counter.
Posted by Heather at 07:38 AM in Beyonce | Permalink
June 22, 2005
That Fugly Show
As we continue to worry about Ashton Kutcher's descent into skankdom, it's worth noting that there is a very, very thin line between Current Kutch...
... and Cleaned-Up (by his standards) K-Fed:


Be careful, A-Kutch. Where this man has taken himself, even cockroaches fear to tread. Don't make Demi go there. Something tells me she has a low tolerance for Cheeto dust and body odor.
Posted by Heather at 04:56 PM | Permalink
Fug Begins
Katie Holmes always seemed like a nice girl with a simple but solid sense of style; however, Kate Holmes, Scientologist And Uterus-For-Hire, is starting to worry me. For instance, she showed up at a War Of The Worlds event with her spastic man-child fiance wearing the following frumpy red number:
Perhaps she's in costume as the Scientology Red Volumes. I think it's her sleeve that perturbs me most, aside from the fact that the entire dress bores me fiercely. And yet with this strangely plain, marmy dress, "Kate" has paired shoes better suited to somebody who receives cash for sex from a man who actually enjoys having it with her:
Yikes.
Posted by Heather at 03:59 PM | Permalink
Royal Fugcot
I am running out of the office to buy up hat designer Tracy Rose's ENTIRE INVENTORY: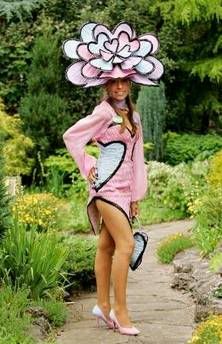 I mean, right?
Posted by Jessica at 08:11 AM | Permalink
June 21, 2005
Random Boho Fug

[Photo by Daily Celeb.]
Sharon Case is a very pretty girl. She was excellent that day on that soap, where that guy did that thing, and she cried. Her hair looks nice. But... I just wish she wasn't schlumping around town in the very latest so-called "boho chic" b.s.; I am so tired of flowing skirts and tops that look like sundresses I wore when I was four. But even so, if she just hadn't worn these two things together, the whole effect wouldn't have been terrible; as it is, though, the outfit not only makes her look slouchy and saggy, but it gives her waist the appearance of being located down around where her knees should be. It's like her midsection is sinking.
I'm ready now, Old Navy. You can stop now, Forever 21. And all you designers who are getting away with charging eight times as much for almost identical thin cotton crap, I'm done with you, too. I am. Stop trying to tell me to bust a tunic, or that these skirts are super chic. I am very weary of walking into stores and seeing mannequins dressed as Ms. Case is, in the hope of luring me into thinking that peasant skirts and flowy tops will make me look trendy and not dumpy. I am very, very sick of going shopping and being confronted at every turn by rumpled boho skirts, paisley or tie-dyed shirts, and things that blouse where no item has bloused before. I'm quite serious about this -- I'm not sure why we needed to revisit this era of fashion history, but can't we move along? Haven't you tortured us long enough?
Posted by Heather at 12:32 PM | Permalink
Helen Fug
"Hello! I'm Helen Hunt's agent, and I just dropped by to let you know that everything is fine. Just fine. No cause for alarm!"
"See? Nothing at all to worry about -- she is aglow with the joys of motherhood, too humbled by that miracle to feel she really needs to stand up straight, and she resents very much the implication that her "smile" appears to be frozen in place beneath empty, desperate eyes. Ms. Hunt is as warm and cuddly and vital a person as ever, so no, she would not like to read the script for the film adaptation of The Golden Girls, thank you very much, not even if she gets to play Blanche, because Helen Hunt is YOUNG and STILL RELEVANT, and does not do caftans.
Nor is she suddenly partial only to dressing like a very sheltered librarian at her first luau. The above is just an optical illusion -- it's because you're not on The Inside. See, we insiders know the Elizabethan ruff is on the cusp of a massive comeback, so Helen is in fact something of a visionary, and you will all be sorry in a few months when everyone important in the world is wearing one, along with their outfits that are color-coordinated to match a Price Is Right living-room showcase, so get your laughs in now, folks, because oh, for the LOVE of GOD, HELEN, MUST YOU BE IN SUCH A HURRY TO TURN 65?!? I HAVE A MORTGAGE, LADY. DON'T MAKE ME CUT YOU."
Posted by Heather at 07:02 AM | Permalink
June 20, 2005
A Fugventure in Real Life: Kirsten Dunst
Imagine my glee this weekend, dear readers, when I had a real-life run-in with one of Go Fug Yourself's repeat offenders: Kirsten Dunst, or, as the clever wordsmiths on Fametracker's late, much lamented "Celebrity Anagrams" thread dubbed her, "Dr. Sunken Tits."
Heather and I attended the Rilo Kiley show this weekend at the Wiltern, and it was a veritable Fug Fest: ever so many misguided capri-length leggings and unfortunate tunic-like items. [The band, however, rocked out.] As I waited to get into the theatre, La Dunst strolled past me, wearing what I can only interpret as a gift. A gift TO ME: baggy, rolled up navy blue shorts, a man's button down shirt, an oversized blazer, shaggy, uncombed hair, a ginorous rucksack, a pashmina wrapped around her neck and, yes, cowboy boots. In the interest of full disclosure, I must add that her skin is gorgeous.
I assumed La Dunst and her small blonde friend would be whisked past me and into some sort of VIP area, so imagine my surprise when I found myself standing directly next to her during one of the opening acts -- a rather underwhelming performance by a woman who called herself "Feist."
When "Feist" asked the crowd how they were doing, I turned to my friend and said, "eh, I'm all right." And, my friends, this innocuous comment drew the wrath of La Dunst! She turned, she glared, she glowered. Friends, I came close to fisticuffs with La Dunst.
Instead, I decided to ignore her, and she managed to scramble her way down to the front of the house for Rilo Kiley. And fisticuffs were not had. Except in my mind. And, yes, the gauntlet has been thrown down. Dr. Sunken Tits, as revenge for those death rays, I vow here and now to never, never rest in my quest to find ever more grotesque and unflattering photos of you, which I will then post here for the world to see. To see, and to mock. Stay fugly, Sunken Tits: I will find you!
Posted by Jessica at 12:26 PM in Kirsten Dunst | Permalink