I mean, on one hand, I'm thrilled she's wearing clothes. You shouldn't look a gift horse in the mouth, right?
But the horse is just so ugly: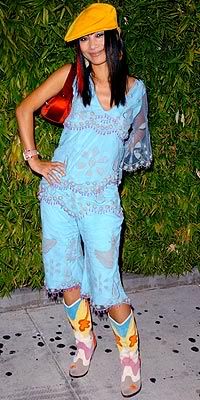 One sleeve! Crazy boots! A formal shorts set that appears to be courtesy of my grandma's kitchen curtains! And, of course, a bright red purse and a bright yellow cap. Of course.
I dunno. I kinda liked her better naked. At least everything was coordinated.