Ever topical and timely, our pretty little Princess Peldon has reappeared on the scene:
: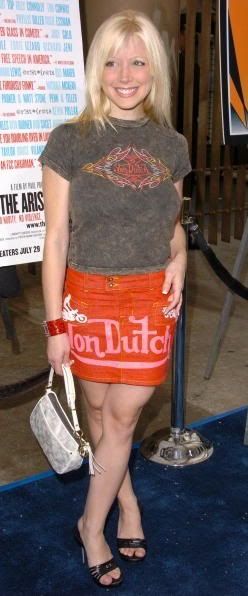 [Photo courtesy of Daily Celeb.]
There's one of two things happening here. By wrapping herself solely in Von Dutch, La Peldon is either: (A) desperately trying to attract the attention of A-Kutch, in the hopes that she can convince him to leave Demi Moore for a younger, dimmer bulb, or (B) she is laboring under the delusion that it is still 2003. If it is the latter, I wonder what else she's doing that the rest of us have long since abandoned? Is she still trying to decide how she feels about John Kerry? Is she breathlessly wondering why Simon Cowell is so darn mean? Is she listening to a lot of Chingy? Is she sadly showing up to the long-destroyed set of Boston Public, carrying a frayed script, and wandering around aimlessly for hours looking for David E. Kelley? If so, can she thank him for sort of falling off the face of the earth for me? Thanks.