Molly Stanton, you might have landed a plum role on a sure to be disasterous new WB sitcom, but to me, you will always be Charity from Passions. Dull, anemic, whiny, mealymouthed, virginal, semi-magical-but-not-in-the-fun-way Charity.
And the outfit you wore to the WB's TCA party is not really making me sit up and take you seriously as...well, as anything, really: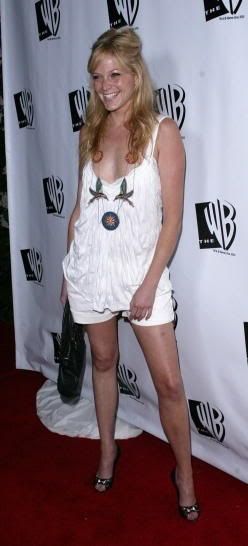 [Photo courtesy of Daily Celeb.]
What are you wearing, and why is it so weirdly nautical? And also low-cut? And also wrinkled? And...are those appliques? Are you serious? Are they supposed to be approximating...nipples? Seriously, I know she's playing your mother on this new show and all, but are you taking fashion advice from Melanie Griffith? Because maybe you're new, but she crazy.