Look, I know Sienna Miller is heartbroken and all, but I've been there, and I didn't react to the crushing agony of a failed relationship by putting on a BOWLER, for Christ's sweet sake: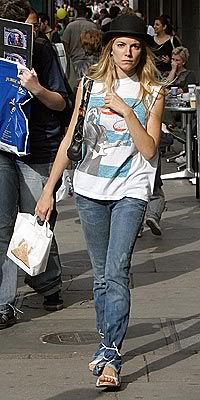 Nor did I tie my jeans shut with what looks like bailing twine. If I had, my friends would not have allowed me out into the street, but instead would have locked me in my apartment, shoveled first ice cream and then tequila down my gullet, and repeated "he's an asshole, he's an asshole, he's an asshole," until I believed them, or was at least recovered enough to pretend to believe them so that they would let me out of the house, so that I could drive past the asshole's house ten to twelve times a day, not that I ever actually did that or anything.
But poor Sienna clearly has no such friends. In fact, I am concerned that she has no friends at all, and that this bailing twine/bowler thing, instead of being a quirky sartorial homage to, like, both Mr. George W. Banks of the Fidelity Fiduciary Bank and the Home Depot, is actually a tragic, screaming cry for intervention.
I mean, honestly. A bowler? And twine? Won't someone help this girl?