« August 2005 | Main | October 2005 »
September 30, 2005
Joy Fug
Remember that story about how Sean Young was so crazy to land role of Catwoman [this, youngsters, was like a million years ago, back when Sean Young ostensibly had a career, albeit one on the wane, and the Catwoman in question was not the Halle Berry Catwoman, but rather the Catwoman that was eventually played by Michelle Pfieffer in Batman Returns] that she showed up on some talk show dressed as Catwoman in some wrong-headed attempt to...I don't even know, and everyone in America looked at each other and went, "oh, dude, That's just sad." ?
I think Joy Bryant is doing the same thing for the title role in the live-action version of Pocahontas:
Except it's even sadder, because there is no live-action version of Pocahontas in the works.*
[* Okay, okay, you can close your Outlook. Apparently, Terrance Malick is doing some Pocahontas something or other, but suffice to say, Joy Bryant is not in it, and it's already in post-production, and therefore, she never will be in it, and that, also, is terribly sad, don't you agree?]
Posted by Jessica at 10:07 AM | Permalink
September 29, 2005
The Constant Fugner
Look. Rachel Weisz is a beautiful, beautiful woman. Beautiful. She wears clothes beautifully. She has beautiful hair. She's just beautiful.
AND THEN:
Eeeeergh. It's like neopolitan ice cream....IN DRESS FORM. And while I have no beef with the neopolitan ice cream -- who, after all, is not pleased by the concept of having three entirely different ice cream flavors in the same container -- it is, as I learned from reading Judy Blume's Fudge books, to eat, not to wear.
Posted by Jessica at 01:35 PM | Permalink
The Sixth Fug
Well, naturally. What do you wear to walk the dog if not a belted tunic stolen from K-Mart's very exclusive Peter Pan Collection, and some slouchy rattan boots?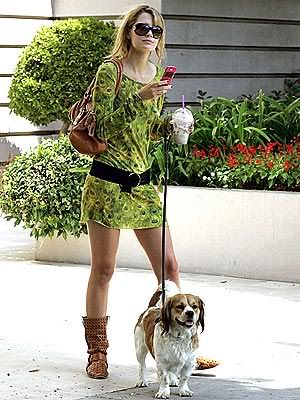 Seems like the obvious choice to me.
Posted by Jessica at 12:18 PM in Mischa Barton | Permalink
September 28, 2005
Fuglett Johansson: Updated 9/29
I can't imagine what Scarlett Johansson's groin did to merit being punished in this manner:
I'm not sure who decided the Mom Jeans rise needed to come back in, but let's put it this way: If it takes you as long to run the bases as it does an ACTUAL baseball player, something's awry.
Also, would somebody please loan her $20? She needs some cotton tanks that aren't Olsen-thin.
We have since learned that what ScarJo's groin did was quite simple: It allowed itself to take part in a fashion show by Imitation of Christ, the label created by the fearsome Tara Subkoff -- and for which our very favorite icon of fug, Chloe Sevigny, designs/has designed. So suddenly, the imprisoning 20-mile zipper isn't surprising, nor is the general aura of awfulness around the entire look. ScarJo, we understand they may have shoved and shoehorned you into that outfit, but... free yourself from their neon claws. You owe it to yourself. And to your pelvis.
Posted by Heather at 12:06 PM in Scarlett Johansson | Permalink
September 27, 2005
I Didn't Steal Your Fugfriend
"Hey guys!
"What-what! Give it up for my outfit! Hey heeeeey! Why wear tights when jeans do just as well? Word!"
Posted by Jessica at 12:41 PM in Ashlee & Jessica Simpson | Permalink
September 26, 2005
We Got the Fug
Overhead at Element: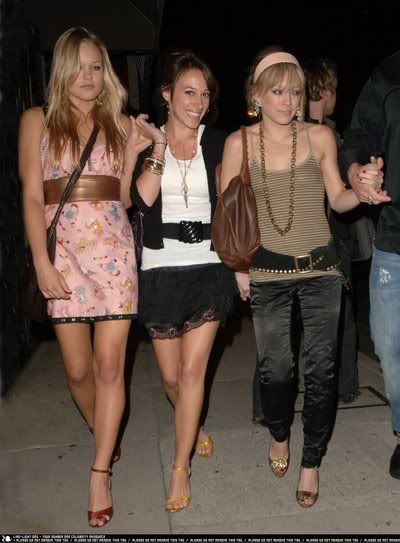 Random starlet/pop-singer/hanger-on: "I can't believe these bitches actually made me come out in public wearing a mini-dress made from children's sheets. I'm going to scratch Haylie's eyes out later. Right out of her head!"
Haylie Duff: "I can't believe Hilary's letting me come out in public with her again! I'm so happy! I feel so important! I feel so loved! I feel so pretty! I feel! I am a human being, and I FEEL! If Hilary hadn't told me that she would punch me in the mouth if I so much as opened my mouth, I would BURST INTO SONG!"
Hilary Duff: "I can't believe that bitch at Fred Segal talked me into buying these pants. I KNEW tapered legs were going too far. I KNEW IT. And they're so SHINY. TAPERED AND SHINY. I'm wearing tapered and shiny pants in public. It's not 1987! What was I thinking? God, my new teeth are KILLING ME. Are they supposed to hurt like this? This is the worst night ever. I can't even look at Haylie. I want to go home."
Posted by Jessica at 10:49 AM in Hilary & Haylie Duff | Permalink
September 23, 2005
Fug Creek
Oh my God, it's Meredith "Andie McPhee" Monroe.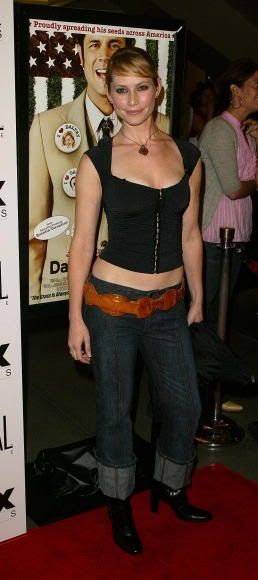 I have no idea what's going on with the porportions of this outfit. The shirt is cute and flattering...except it's too short. Or the jeans are too low. Either way, why would she wear something that exposes the exact ring of skin that every woman wants to conceal? Why, Andie? Why? Even if you're all firm and shit there, it still looks, from afar, like you're prancing around with your muffin top out! And with the cuffed jeans over the boots, it's like you're walking around on the world's tiniest wee little legs. And a brown scuffed belt with shiny black boots? Girl, I don't know what they did to you when you went to that mental institution and subsequentally cheated on Pacey Witter, but I suspect it had something to do with the fashion portion of your -- oh, forget it. This outfit is bad, but it's not THAT bad. I just couldn't resist posting little Andie McPhee. Who even knew she was alive? Frankly, she almost looks younger here than she did on Dawson's Creek when they Andrea Zuckerman-ed her up with, like, little ponytails and shit to try to make her look like she wasn't ten years older than everyone else on the show. So long live McPhee! Wear your muffin top with pride! I can't believe people are still inviting you places! Uncuff your jeans and live, damn it! Live!
Posted by Jessica at 10:25 AM | Permalink
September 22, 2005
Fugadise!
Ever the mistress of subtlety, I present to you Miss Tara Reid:
If you have to write it on your ass, it might not be true.
Posted by Jessica at 11:42 AM in Tara Reid | Permalink
September 21, 2005
Fug This!
A peek inside Paris Hilton's Day Planner:
[Photo courtesy of Daily Celeb]
4:3opm: wake up
5:oopm: go back to sleep in tanning bed
6:15pm: make help wash hair
6:30pm: consider texting Man Paris. Crank call Nicole instead.
6:40pm: threeway with man who drives me places and lady who paints my toes.
6:47pm: put on velvet dirndl-y sack-dress thingie. Shapeless throwbacks to already-unflattering retro styles are hott.
7:00pm: but it's missing something. Something...macrame. Like a vest!
7:20pm: party!
Posted by Jessica at 12:47 PM in Paris & Nicky Hilton | Permalink
Emmy Pre-Party Fug: Patricia Arquette
I feel like Patricia Arquette is constantly making me groan, "Ooooh... so close." For instance, she's a lovely woman who rocks her healthy, normal figure, but then she'll show up somewhere in a tight satin sheath that is hard for anybody to wear without accentuating the negatives.
Or, she'll throw a red sash around her waist and let it hang there limply, helping no one and doing nothing but cup her stomach:

[Photo by Daily Celeb.]
If she'd worn this hair with the other dress, we might've had a winner. But instead she wore the horrible coif with the nice frock, and the sleeker 'do with this satin atrocity from the J.Lo/Anjelica Huston School of Fug. She also can't get her straps to behave -- the one on the left up there is staying put when it shouldn't, while her Emmy ceremony dress strap dropped clean off in the middle of her acceptance speech. The woman can't win.
Well, except for the Emmy. And her slowly debloating life partner. But her closet is a giant rack of suck.
Posted by Heather at 11:44 AM in Emmy Awards | Permalink