« August 2005 | Main | October 2005 »
September 21, 2005
Two Times a Fugging
Jenny McCarthy had National Talk Like A Pirate Day (plus her own innate poor taste). But what's Nicole Richie's excuse?

[Photo by Daily Celeb.]
Despite that whole human bobblehead thing she's got going on, Nicole usually looks rather nice on the red carpet -- but that thing is swallowing her whole. Maybe I should just be happy that at least something in this picture is eating.
Posted by Heather at 11:21 AM in Nicole Richie | Permalink
September 20, 2005
Emmy Pre-Party Fug: Alice Evans

[Photo by Daily Celeb.]
Oh, honey. Even Dorothy herself would have surrended that old thing. So unless you are attending a theme party that is under the mistaken impression that the Emmy Awards are an homage to the unsung courage and dedication of Auntie Em herself, then you should probably deep-six the pumps, the homemade capris, and the frock before somebody throws you over a picnic table and serves a buffet of sanwiches and potato salad all over your torso.
Joely Richardson is all, "I am standing next to her ALL NIGHT. I look FANTASTIC."
Posted by Heather at 11:51 AM in Emmy Awards | Permalink
Dirty Fug
Jenny McCarthy was really inspired when she learned that her new movie was premiering on National Talk Like a Pirate Day: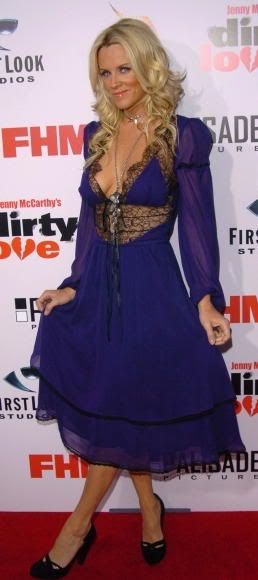 She looks like a cocktail waitress at the Jolly Roger crossed with a lingerie model at Sears. Seriously. Is that even outerwear?
Posted by Jessica at 10:37 AM | Permalink
Emmy Pre-Party Fug: Cynthia Garrett
Ever since her show Life & Style got cancelled, Cynthia Garrett has apparently been living life in the style of a homeless hippie-cowgirl:

[Photo by Daily Celeb.]
I always suspected that working with Jules Asner day in, day out, would drive a person into a state of unbrushed boho insanity. It's okay, Cynthia. We know. We don't understand what Steven Soderbergh sees in her, either -- or, well, we do, but we just don't understand how he lives with himself during those moments when they're forced to have a conversation. We're here for you, Cyn. You're free now -- it'll get better, we promise. Step away from the hat and don't let the fringe suck you into its poisonous lair.
Posted by Heather at 07:00 AM in Emmy Awards | Permalink
September 19, 2005
Emmy Fug Carpet: ENOUGH ALREADY, Tess Smith
Okay, "Tess Smith," if indeed that is your name. I know you're doing this for publicity, and that I'm playing right into your grubby, grasping hands, but I can't ignore you because you have made that impossible.
Apparently, you had such success looking like a desperate head-case last year that, in 2005, you've taken the shredded look just far enough to make it clear precisely how Brazilian your wax job is. You look like an extra who wandered, drunk and clueless, off the set of a porno called Julius Pleaser: Eh tu, Bootay?
Look, I'm sure you're a sunny person. And I know some people will applaud your moxie and invite you into all the cool after-parties, because you are essentially naked, and all the people who wish Teri Hatcher would wear that are going to stare at you instead, as she and the other Desperate Housewives at least have enough combined modica of class that they don't run around letting their labia flap in the breeze.
But at the end of the day, when everyone wipes the powder -- legal and otherwise -- off their faces and goes home to take a shower and gulp Aleve with their hair-of-the-dog raspberry mojitos, you'll just be remembered as that sad, embarrassing Tinseltown cliche who makes Pamela Anderson look like the very image of restraint, taste, and elegance. Is that really the label you want? Really?
Posted by Heather at 02:28 PM in Emmy Awards | Permalink
Emmy Fug Carpet: Naima
Heidi Klum's pregnancy wasn't a fashion statement, so hopefully other people will stop using it as the green light to dress as if they're expecting.

[Photo by Daily Celeb.]
America's Next Top Drapery winner Naima clearly needs a refresher course from Miss Janice Dickinson about posing. But the clothes aren't helping -- she looks straight out of Sense and Sensibility, wherein everyone is clad in garments that are tailored to be scandal-ready. Surely somebody could have helped her choose a dress that doesn't give stomach where no stomach exists.
Posted by Heather at 11:42 AM in Emmy Awards | Permalink
Emmy Pre-Party Fug: Courtney Peldon
Sometimes it's not the clothes that fug up the Peldon -- it's what's beneath them.
In this case, La Peldon seems to have parlayed her D-list status into getting a D-list tan, one as orange, uneven, and blotchy as a pubescent Oompa-Loompa.
Doesn't it kind of look like her mismatched, normal-colored face has been Photoshopped onto another body? Like someone's been having a little pictoral fun with our Courtney -- perhaps even Courtney herself, trying to cover up that she actually wore something far more hideous to this Emmy pre-party?
But no -- no chicanery here, except on the part of the sunscreen/tanning salon/bloated Davis brother who snapped on the protective gloves and slobberingly rubbed in her self-tanner. This is truly La Peldon in all her heinous Burnt Marmalade glory, apparently so greedy for attention that she's even trying to redefine the term "Brown Peldon" so that it no longer applies to her sister.
Posted by Heather at 11:09 AM in Courtney Peldon, Emmy Awards | Permalink
Emmy Fug Carpet: Patricia Arquette
Oh, Patricia Arquette.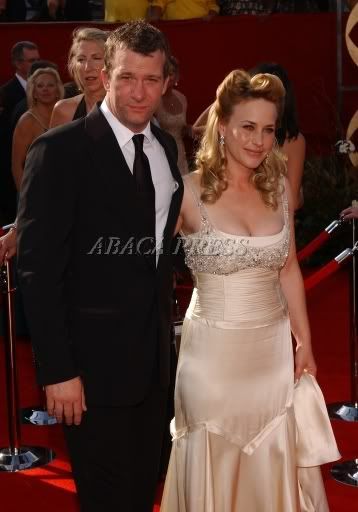 What is with the hair? It's like Marie Antoinette by way of Rosie the Riveter. What are you hiding in there? The latest Medium script? State secrets? Snacks for later? [Not a bad idea when the show is nine and a half hours long.]
Just don't.
Posted by Jessica at 10:17 AM in Emmy Awards | Permalink
Emmy Fug Carpet: Mary McCormack
Mary McCormack is very, very confused. She seriously was pretty sure when the limo pulled up that she was being ferried to her senior prom, circa 1984: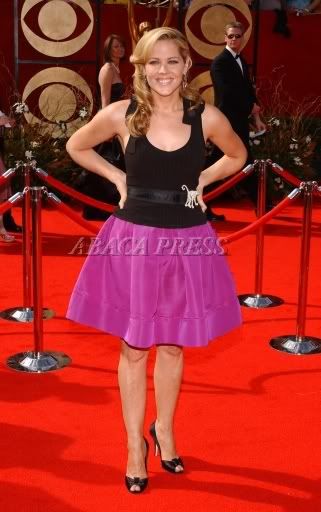 Hey everybody! Where's the punchbowl?
Posted by Jessica at 09:53 AM in Emmy Awards | Permalink
Emmy Fug Carpet: Macy Gray
On a night when many of the Emmy attendees were frustratingly well-dressed, thank God we can still turn to Crazy Macy Gray: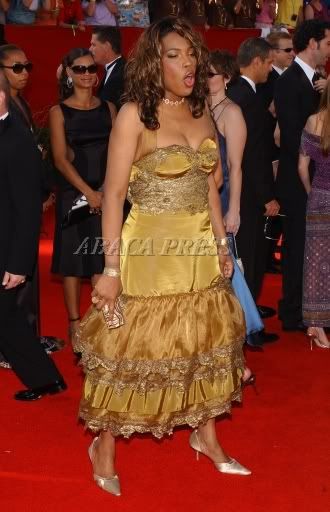 It doesn't fit! The shoes don't match! The dress itself may, in fact, be composed entirely of a cast-off set of drawing room curtains from the set of Scarlett: The Sequel to Gone With the Wind, starring Timothy Dalton! It's certainly totally flammable. And for that, Macy Gray, we the Fug Girls salute you. Anyone who shows up to an awards show looking both baked and bake-able is okay by us.
Posted by Jessica at 09:48 AM in Emmy Awards | Permalink