« September 2005 | Main | November 2005 »
October 31, 2005
The Fugtons
Interesting that only Nicky chose to wear a costume on Halloween.
Posted by Heather at 06:39 PM in Paris & Nicky Hilton | Permalink
R. Fugly
R. Kelly has apparently decided to conceptualize a new version of his "hit" urban opera -- "Trapped In A Baghdad Closet."

[Photo by Daily Celeb.]
I assume the finger guns are there because he couldn't whip out his Beretta, as is his wont, and wave it around haphazardly while urging us all to handle things "Christian-like." And presumably his lawyers forced him to go into Stealth Wang mode by camouflaging his crotch, rendering it naturally invisible so that no under-18s might see it and feel the threat of a golden shower raining down upon them. I'd suggest that he thank them for their ingenuity, and for them getting him through all the allegations and whatnot, but R. already took care of that in the liner notes for TP3: Reloaded, in which he expressed heartfelt gratitude for his attorneys' belief in him -- right after he thanked God, his four trainers, several gyms, the record people, some family, some friends, the butcher, the baker, the candlestick maker, Ray Ban, Neil Patrick Harris, the closet, Andrew Lloyd Webber, porcelain bathtubs, and the cast and crew of The Englishman Who Went Up A Hill And Came Down A Mountain.
But, it's nice to see R. has come out of that period on top of his game, and not at all looking like he emerged from the aforementioned Closet of War having lost a ground battle with his own trousers. In fact, he may be trying to help us. By cleverly shoving on cutoffs and ankle cuffs over some trousers he was already wearing, R. may in fact be trying to rush the hideous dresses-over-jeans trend to its natural conclusion: jeans over jeans. God, is there nothing this man won't do for us? He trapped himself in a closet to teach us all about relationships, and how complicated they are, and how if you come home and a phone rings in the vicinity of your closet, you should immediately check in the bathroom, the shower, under the bed, and in the dresser drawer before actually checking said closet, and how firing off a bullet in the air can really shut a bitch up, and how a woman shouldn't ride her husband too aggressively in the sack because it puts him in severe danger of getting a groin cramp, and how no matter how much needless exposition exists in your life, you will NEVER know who the hell Roxanne is, so just give up already.
The sheer number of life lessons that have come from him are spectacular. So forget the fugging, guys. Embrace him instead. I hope you too will go out and wear ankle cuffs and cutoffs over your pants. It's the least you can do for a man who's only trying to help. To quote the genius himself, "Let the R. do his thing," and if you can't, then "go get a goddamn job and leave [him] alone."
Posted by Heather at 06:18 AM | Permalink
October 28, 2005
Fug Eye

[Photo by Daily Celeb.]
Rachel McAdams is so pretty. Doesn't she look nice? Except... there's something bothering me about this picture, but I can't put my finger on it. Just can't get to the root of it. Hmm. God, and I was really rooting for this outfit, too... What could be the root of the problem? I need to find a route out of this muddle. I don't root what to root. I'm rootly embarrassed here. Root's so rooting and root root. ROOT.
Ahem. Sorry. I got distracted there. I think I was trying to say that I don't like the pockets.
Posted by Heather at 12:05 PM | Permalink
Fugspeare in Love
Now, here's the thing. I secretly love Gwyneth Paltrow. I know! I know. But I do. I can't help it. She has such pretty hair. She's so Ralph Lauren-looking, all fresh-faced and clean. She looks like she smells like expensive soap.
Except for here: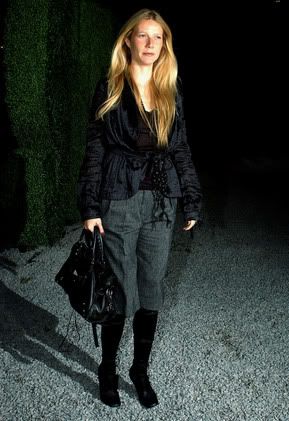 Gywnie, Gywnie. Why are you such a gloomy gauchos? All wrinkly and glum? Buck up! Things aren't so bad that you have to start dressing like an East German ice dancing judge circa 1982.
But your hair is still very pretty.
Posted by Jessica at 10:56 AM | Permalink
Fug of Arcadia

[Photo by Daily Celeb.]
Oh, Amber. Don't even TRY to pretend that before your show wrapped, God came down and whispered in your ear that formal shorts weren't a mortal sin. God knows better. He's smote people for less. Don't be smote. Or smited. Smoted? Regardless, that sort of thing can really mess up a girl's hair.
Posted by Heather at 09:52 AM | Permalink
October 27, 2005
Harry Potter and the Goblet of Fug
If only Harry Potter were not fictional. I would send one Master Ronald Weasley a Howler regarding his hair. Behold!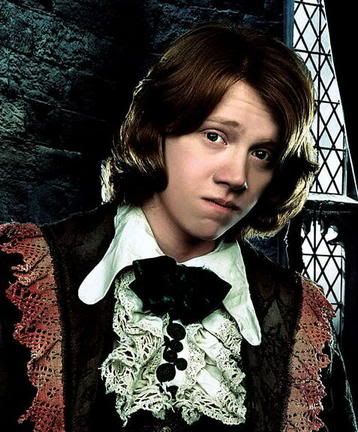 Ron, Ron, Ron. I love you entirely, and spent the whole time I was reading Goblet of Fire worried that you were going to get killed off. BUT MY GOD, MAN. How can you SEE to cast your spells with all that HAIR IN YOUR EYES? You look like Shaun Cassidy. DON'T YOU HAVE ENOUGH PROBLEMS WITHOUT THE UPKEEP OF BANGS? WHY HAVE THE COSTUMERS DECIDED THIS WAS A GOOD LOOK FOR YOU?
And as if poor Ron's hair weren't tragic enough, apparently sweet little Rupert Grint has decided to keep it in real life: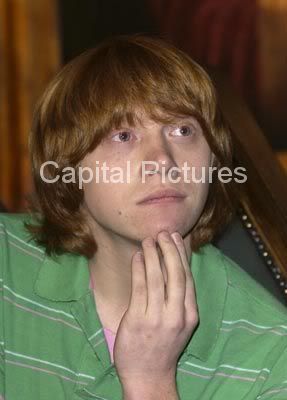 Please tell me you're effecting the pose of The Thinker because you are reconsidering your bowl cut. You are ADORABLE. I am nothing if not a fan of the Family Weasley! YOU'D LOOK SO MUCH BETTER IF YOU JUST GOT YOUR HAIR OUT OF YOUR -- oh, sweet God. I just turned into my mother, didn't I?
Sorry, Ron. Carry on.
Posted by Jessica at 12:13 PM | Permalink
October 26, 2005
Fugleelee Sobieski
We all loved that puppet-show scene in The Sound of Music. We all know about the poor lonely goatherd and his lusty yodeling, and the girl and her mama with the gleaming gloat, or coat, or whatever the hell the lyrics were. Basically, we all just liked watching the cute beer-swilling ones and those precious little big-eyed goats, and if you didn't think the goatboy and his girlfriend were cute then you have a heart made of tarred stone, and you really can't go wrong with Julie Andrews. At all.
(Unless we're talking about The Princess Diaries 2, in which case, don't watch it -- you will feel so depressed at how much that debacle disgraces her, although there is something fun about imagining her and Hector Elizondo doing shots in their trailers and bemoaning the bad old good old days when they were both in actual good movies, and wondering drunkenly whether they can bribe Garry Marshall into letting them burn the master print.)
But: back to the goatherd. Leelee Sobieski is apparently looking for him.

[Photo by Daily Celeb.]
Her acting is as wooden as if she were a marionette herself, and certainly she could benefit from having La Andrews pull her strings. But generally speaking, Leelee Sobieski is not a maiden on a Swiss hilltop, and as far as I can tell, she's not milking anything except perhaps the ticking clock of her notoriety. So the whole The Hills Are Alive With The Sound Of Half-Pint motif she's got going here really might be better left inside her closet.
Posted by Heather at 01:50 PM | Permalink
Save The Last Fug

[Photo by Daily Celeb.]
Kerry Washington failed the fugculus portion of her SATs, it seems. Let's go over the multiple-choice question:
Two mismatched wrongs + one hideous sash make ______:
a) a right
b) my right eyeball twitch
c) a girl aware of her right to remain silent while the fashion cops arrest her, on charges of reckless behavior, being a menace to society, DUI (dressing under the influence of idiots), and mixing white and cream.
d) both b and c.
I think the answer is clear, but sadly, Kerry chose A.
Posted by Heather at 11:38 AM | Permalink
Random Fug

[Photos by Daily Celeb.]
I don't know a thing about this strange showgirl-nymph...
... except that she appears to be as startled by me as I am by her.
Posted by Heather at 10:13 AM in Random Fug | Permalink
October 25, 2005
Fuglyweds, or WHEN WILL THE SHAM END?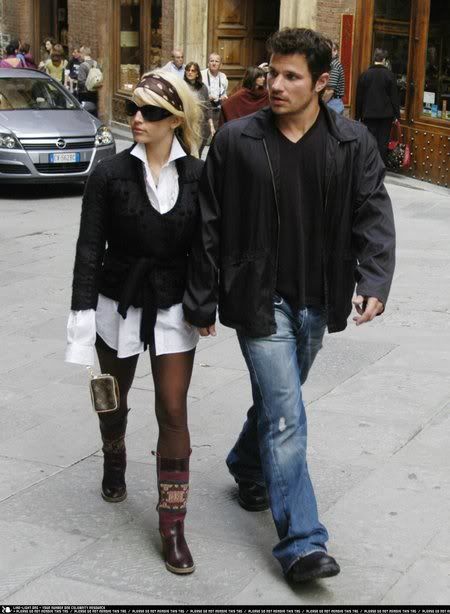 NICK: Hey, Jess, do you think they're buying it?
JESS: What?
NICK: IT. THIS. THIS SHAM OF A MARRIAGE WE'RE KEEPING UP FOR GOD KNOWS WHY. IT'S NOT LIKE ANYONE CARES ABOUT US ANYMORE.
JESS: Huh? Oh, um. I dunno. Probably.
NICK: Seriously? HOW CAN YOU THINK THAT? EVERYONE KNOWS IT'S OVER!
JESS: Hmm? Sure, honey.
NICK: YOU'RE NOT EVEN LISTENING TO ME.
JESS: Mmm-hmmm.
NICK: And what are you WEARING? Are those TIGHTS? WITH NO PANTS? UNDER A BIG SHIRT? AND A CROPPED SWEATER? WHO ARE YOU? WHAT IS WRONG WITH YOU? WHAT IS WRONG WITH YOUUUUUU?
JESS: Uh-huh.
NICK: I WANT A DIVORCE!
Posted by Jessica at 09:52 AM in Ashlee & Jessica Simpson | Permalink