Well, I've heard that there ain't no party like an S-Club party, and former S-Clubber Jo [AKA, The One Who Could Really Sing During That Time When S Club Had That Saturday Morning TV Show That OKAY, FINE, I TOTALLY WATCHED], is certainly DRESSED for some kind of party: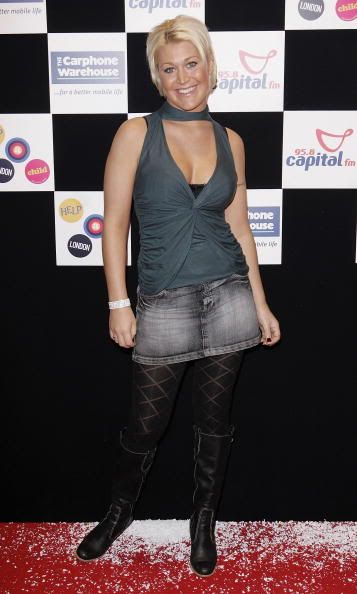 Honestly, this outfit isn't that bad. Sure, she's obeying the command in the hit S Club song, "S-Club Party," that asks for "hoochie mamas" to "show [their] na-nas" -- I presume "na-nas" are boobies -- but the tights and the undertank keep her from looking like a real hoochie mama. The skirt is a leetle short and a leetle acid-washed, and she's a bit OLD for this entire outfit, but...okay, fine. She looks fine. She looks just fine. I mean, the weird halter top thing makes her look like she has NO NECK WHATSOEVER, but other than that, this outfit is okay.
I JUST WANTED TO SAY "HOOCHIE MAMAS, SHOW YOUR NA-NAS." IS THAT SO WRONG?
And if S Club Jo had to be sacrificed for that cause, I'm fine with that.