Oh, Posh Spice. There are so many things I love about you! I love that you said you'd never read a book, even though you ostensibly wrote one. I love how you were arguably the worst singer in the Spice Girls, which was just packed full of girls who couldn't sing. I love your marriage to that adorable high-talker, David Beckham, and I wish the two of you would do a reality show, even though if you did, I don't know if I could bear to watch it due to the aforementioned high-talking.
But do I love you enough to overlook the fact that you're going out with Geri "Ginger Spice" Halliwell wearing em-effing chaps?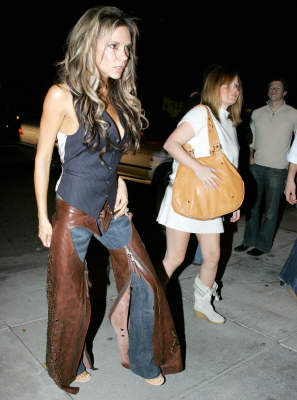 I don't know. I think I kind of do. There are few people in the world who can get away with wearing actual chaps -- cowboys being primary among them -- but just look at you. You're fierce, even in full-on, ridiculous, leather chaps. CHAPS. I don't know who you're looking at, but I'm pretty sure the evening is going to end with you having washed down his brains with a nice glass of champers. So, chaps on, Posh. Chaps on. I'm too scared to say anything about them.