Do you think there's a PR school of thought that believes a starlet should wear a series of insane, unflattering, kooky outfits out of the house until Star Magazine or US Weekly take notice and feature them in a What Not To Wear section, thinking that any exposure is good exposure?
Because that explains the dress Laura Ramsey wore to the premiere of Underworld II: Who Knew Underworld I Made Enough Money To Warrant a Sequel?.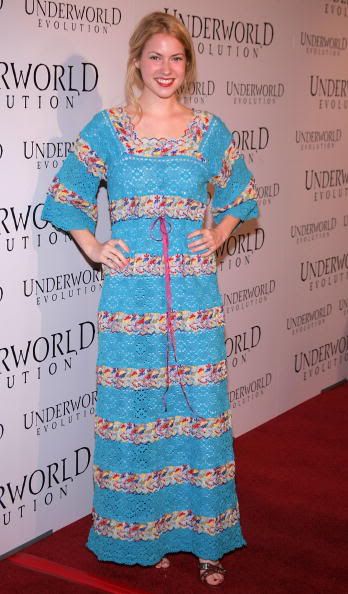 She's very pretty, but let's be reasonable, here: her hair is a reasonable facsimile of mine when I'm scrubbing the kitchen floor, and I think my grandma wore this dress to her Assisted Living Homeowner's Association Cinco de Mayo Fiesta.