« Fuggings | Main | The Ghost Fug »
February 16, 2006
Gold Fugger
Oh, Kanye. You are hilarious: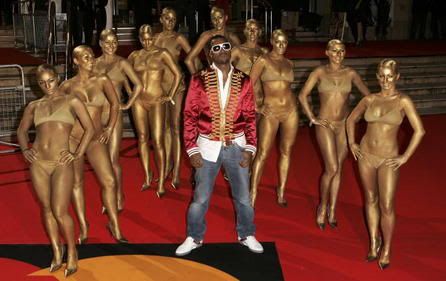 I secretly rather enjoy the Shiny Preppy Drum Leader outfit, and I'm really glad he's not wearing rings over his gloves again, nor a crown of thorns, and God knows, I am incapable of hearing "Gold Digger" without dancing around and waving my arms in the air in a manner which implies that I simply do not care, but I think we can all agree that using other human beings as accessories on the red carpet is just too much. Especially when they're painted.
And you know that somewhere, Gwen Stefani is like, "DAMN! The weird entourage of objectified women is MY IDEA. God, and his are SPRAY-PAINTED. That's SO MUCH COOLER! How am I going to top that? I know! After the baby comes, maybe I can travel with an entourage of crawling INFANTS. Yes! Brilliant! GAME ON, WEST. GAME ON."
Posted by Jessica at 11:27 AM | Permalink