Here's the thing: I've heard Tori Spelling's new show is actually pretty good. And if you think I'm above watching something that features Tori Spelling as herself, including mean jokes about Candy Spelling and her gift-wrapping room, and cracks about 90210, you don't know me very well. Not only will I TiVo So NoTorious, I may break out the last of my U4ia -- although we all know that will tragically lead to my car getting vandalized and my girlfriend burning down my parade float, leaving me 327 messages on my parents' answering machine, and finally giving me what is implied to be a poisoned chocolate cake. But Tori, Tori, Tori: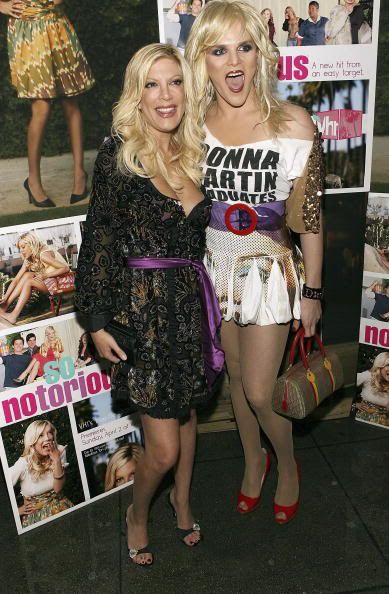 Are those new boobs? Or are you pregnant, as we've heard more than once in the last few months? Because they look bigger, for sure, and the Infamous Donna Martin Chest Cavern of Doom seems to be folding in on itself, like a silicone worm hole. And if you are knocked up, does that explain why you seem to be wearing the rumpled sad-sash brocade uniform of a fourth-tier Vegas cocktail waitress? I sort of think it does not. And finally, does the fact that you're posing with occasionally drag-tastic actor Willam (best known to me as Nip/Tuck's sassy, mildly murderous transvestite Cherry Peck) and his kind of totally brilliant Donna Martin Graduates shirt and Salute to Tori Spelling Wig mean you have a fully functioning sense of humor? And if you do, do you find the fact that your fiance went out and got your entire upper body tattooed on his arm as hilariously misguided as we do? And if you agree with that, does that mean that I have to finally break down and like you for being a good sport, and then ultimately actually admit in public that, fine, I'm secretly rooting for anyone who was on 90210 to be happy, or at least delightfully cheesy and newsworthy, and, FINE, I guess that includes Tori Spelling, instead of keeping that my deep, dark, SoapNet-watching secret?
Because I don't know if I'm ready to do that yet.