Remember that show Emme used to do on E!? With Leon "Eyebrows" Hall -- whom I secretly loved and wanted to drink cocktails with, while trading bitchy comments -- and that British lady with the long, long ponytail? And all the make-overs? I don't remember what it was called (Wear Better Outfits, With Emme? Makeovers and Stuff? Fashion Police? It was Fashion Police, right?), but I enjoyed it, and I liked Emme.
So this makes me somewhat sad: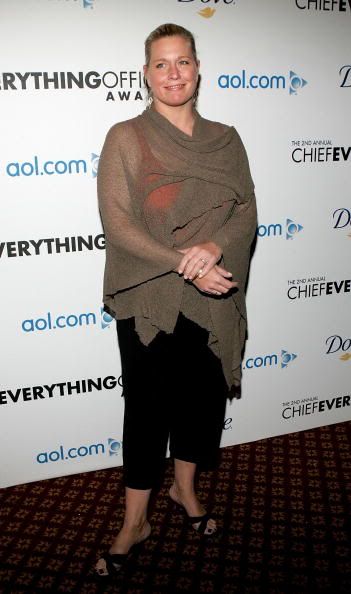 She's so cute, but what's with the Hair of Great Severity and the Wrap of Tremendous, Possibly Carmelite, Seriousness? It's like, from the waist down, she's taking her kids to a fun pool party at her friend Kathy's house, where the kids will get to swim, and she and Kathy will get to drink margaritas and talk about whether they would go with Patrick Dempsey or Chris O'Donnell if they were Meredith Grey, and from the waist up, she's been spending a lot of time thinking about how to solve a problem like Maria.
For the record, I'm pretty sure Maria would vote for going with O'Donnell, but she'd have to put some serious thought into it.