I really hate doing this to Lynda Carter. After all, she IS Wonder Woman. And no one -- no one! -- loved Wonder Woman more than I did. Under-roos? Check. Bathing suit? Check. Hours of twirling in the aforementioned swimsuit in the backyard, in hopes of transforming into Wonder Woman? Check. A tragically misguided decision to tie the cat up with my Lasso of Truth (in reality: twine) so as to interrogate her? Check. An equally misguided crush on Lyle Waggoner? Check. The desire to move to Paradise Island, where Wonder Woman's mother lived, because I liked the togas all the ladies wore? Check. A change of plans when I realized that there were no men on Paradise Island, and I would have to leave Lyle behind? Check. However: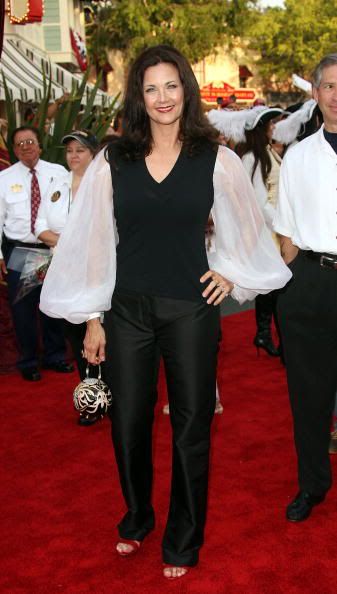 Without the sleeves, this outfit would have been understated, sophisticated, flattering. The sleeves, however, make her look as though she flew to this premiere under her own power.
Which she obviously didn't need to do. Everyone knows Wonder Woman has an invisible plane.