« Fug The Cover: Maxim | Main | »
June 16, 2006
A Fugly Fug Companfug
Okay. So I know I wasn't going to talk about her anymore. I needed to move on, remember? I needed to find a new starlet to love despite the fact that everyone else hates her, despite the fact that she can't dress herself, despite the fact that I really don't get along with her mother. I needed to find another actress I hate to love. Maybe Kiki Dunst? Sure, she can't dress herself, but she DOES seem like she might be amusing to hang out with. I think she'd probably be willing to spend a Saturday tagging along with you on your boring errands, making rude cracks about all your most heinous ex-boyfriends and eating an entire bag of Salt and Vinegar potato chips in the car. That's an important skill. And her mother owns a spa, so, hey: free waxing! But when it comes right down to it, it's been hard to move on, people. When Brandon Davis launched The Firecrotch Diatribe, I almost cracked. No one talks about my girl like that, even if she IS running around town in a garbage bag and pleather pedal-pushers.
But now, I have to break my silence: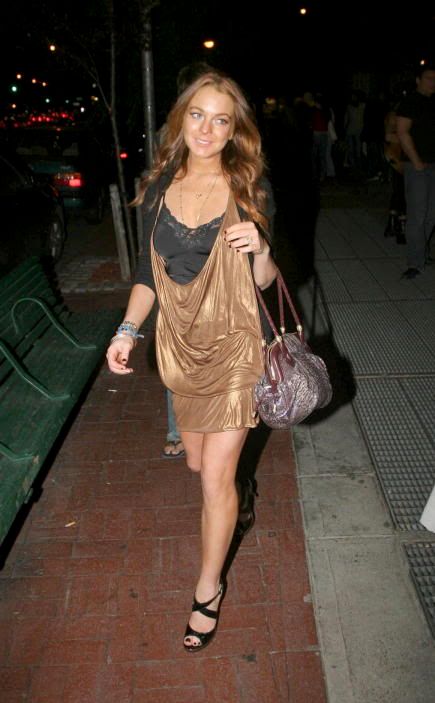 Look, I don't know what Lindsay's doing when she goes out. Is she drinking? I surely don't know. Is she dabbling in something more illicit? I certainly have no idea. However, it does seem to me that if she DOESN'T want people SUSPECTING that she's doing anything other than dancing, drinking Diet Coke, and dating several men who live in Europe, she needs to not dress like this. Because, seriously? Drugs are pretty much the only rational explanation.
Posted by Jessica at 10:16 AM in Lindsay Lohan | Permalink