« Dynasty: Fugly Matrimony | Main | The Young and the Fugless »
June 26, 2006
The Annals of Alexis
In addition to her uncanny sense of occasion when it comes to wedding attire, Alexis Morell Carrington Colby Dexter Rowan knows exactly what to wear when:
1) Preparing to choke out a bitch: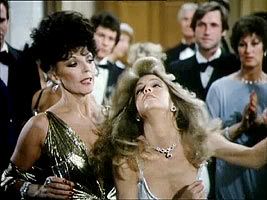 The answer is a gold lame ball gown with some sort of cape/stole attachment, and of course the bitch whose hair is getting pulled out of her head is one Ms. Heather Locklear, whose present-day arch-enemy Denise Richards is at home right now grabbing a pen and taking notes.
2) Being the aforementioned bitch who is getting choked out: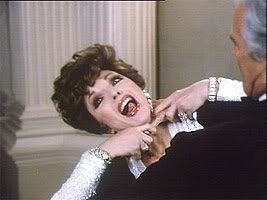 Nobody sparkles during a near-death experience quite like Joan Collins -- you get the sense that her Alexis always dressed to make sure that if she were suddenly killed, she would look perfect in her coffin.
3) Shooting skeet out on the range while your arch-enemy is out riding her horse, so that she might fall and miscarry the baby that she and her husband -- your ex and one true love -- so desperately want.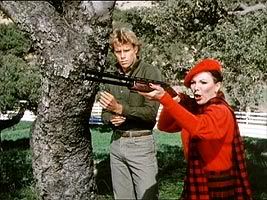 The shawl! The kilt! The kicky tam o'shanter! The surly gay son -- no, wait, he's not gay; his tenderness merely transcends gender... no, wait, yes he is gay... no, wait, he owns the Denver Broncos... ah, but he's in love with the quarterback!
4) Tearing into a chicken wing as if it is the head of your recently reappeared child, who has rather rudely tried to frame you for certain shenanigans involving the attempted slow murder of your stepson via decorating his walls with toxic lead paint.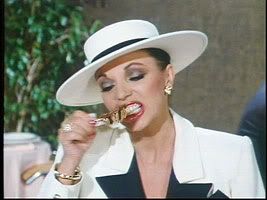 Only Alexis would wear white -- and a hat -- while eating finger-food.
5) Preparing to hurl a drink at your mouthy former husband and on-off lover, with whom you are bound to be on again because you cannot resist the snug fit of his trousers and the fact that he once had the audacity to try taking you to the cleaners and to bed in the same day: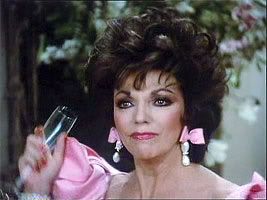 Pink-bow pearl earrings, of course -- the perfect complement to the Pepto-pink bridesmaid dress you are wearing. And apparently, the earrings do work to increase accuracy: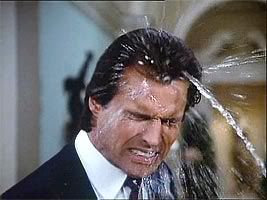 Well played, Alexis. As ever, well played.
And, because it cannot be said enough: Bravo, Mr. Spelling. We know there are more shows than just these campy few -- who doesn't hold a soft spot for The Love Boat? And Charlie's Angels! -- but you gave us more catfights, snappy comebacks, wedding-day massacres in made-up countries, tragic explosions, accidental drownings, bouts of amnesia, disturbing Blake and Krystal dead-fishes-kissing love scenes, homoerotic man-wrestling on rooftops, and mountings of Dr. Michael Mancini than we could've ever dreamed in a million years.
And if that hag Tori -- who is nothing without you on just about every level -- really didn't fly back to see you when you were recovering from your stroke, and really was strolling along the streets of Toronto with her oily husband while you were on your deathbed (come on -- making up over the phone? Please, I don't buy it), then we hope you cut her out of your glorious will. Give it all to Randy and Candy. Their names rhyme, anyway, so it's obviously for the best.
Posted by Heather at 07:10 PM | Permalink