There's so much I like about Bryce Dallas Howard. For one thing, I covet her red hair. (I love red hair and have longed for it since that week in 1986 when Fergie married Prince Andrew, and I just also happened to be reading Anne of Green Gables. This perhaps explains part of why I am so inexplicably in love with Lindsay Lohan.) I appreciate the fact that she's unconventionally attractive. I think that, after two plus years of looking for photos celebrities, I've become much more appreciative of an actress who still looks like herself, rather than someone who's been created in the BriteSmileHairExtensionsMysticTan Labs.
But there is something here that's just not right: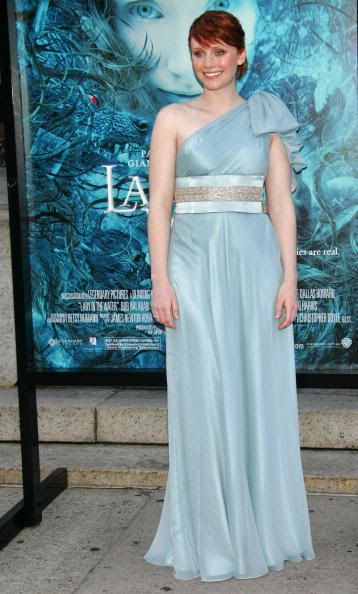 That color is usually nice on someone with her coloring, and I think that holds true, but there's just something about this that's very Mother of the Bride. It's so square -- both, you know, geometrically, and also in the sense of being overly staid. BDH has a lovely figure, but like a lot of us, I think she would benefit from something a little more structured, and the obi-esque waist bit makes her, I think, look a little more rectangular than she actually is. It also looks like it's attached with Velcro: there's something about the edge of the belt-thing that makes me want to grab it and rip it open. Not to, like, nudify her, but just because it looks like it would rip open in a satisfying, Velcro-y way.
Call me crazy (cue: "YOU'RE CRAZY, HO!"), but I don't think that's what she was going for.