« July 2006 | Main | September 2006 »
August 31, 2006
VMA Fug Carpet: Monica
I love cheese. And who among us who loves cheese hasn't thought, at least once, "If only I could work a cheese grater into my clothing, in case I need to shred some Double Gloucester at a moment's notice, then I would be a fulfilled human being." I mean, you never do know when you'll be in a cheese-greating emergency.
Clever Monica for finding a way to turn my dream into a reality.
Posted by Heather at 07:10 PM in VMAs | Permalink
Fug Storm
Musician Avery Storm provides what might be my favorite scrolldown fug EVER: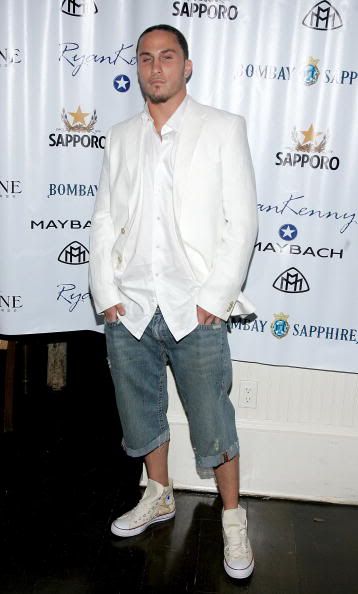 It's like, "good, good, good, good, good, ACK! ACK! STOP! GOD! ACK!"
Are men wearing DENIM MANPRIS now? Because that is NOT GOOD NEWS. This is the kind of fashion choice that could, eventually, stand in the way of the propagation of the ENTIRE SPECIES.
Posted by Jessica at 11:59 AM | Permalink
Well Played: Scarlett Johansson
Yesterday, we expressed displeasure for Scarlett Johansson's choice of activewear at the Venice Film Festival. So we were delighted to see that when she changed for the premiere of her film The Black Dahlia, she went with something we were far less likely to be found between the covers of Land's End.
She's switched to a red lip, but it's a rich, dark one, rather than a bright, knock-you-backwards red that rarely works unless if a bunch of really hot firemen are adjacent to it.
And the dress is actually really interesting -- it's not something that would ever have attracted me personally, yet I think Scarlett looks smashing in it. The cut and the fit combine to create a very sleek and tall figure indeed; the cinched waist gives the illusion that her legs go on for days. And with her new hair and her healthy (and natural-looking, miracle of miracles) skin color and tone don't allow themselves to be washed out or overshadowed by the pale fabric hue. If, say, Nicole Kidman wore this, she'd disappear and/or risk looking sickly, but on ScarJo the gown isn't wearing her -- she is wearing the hell out of the gown.
In all, it's very old-movie chic, a welcome dash of Deborah Kerr in this day and age.
Now I need to go wash the good cheer off my hands.
Posted by Heather at 11:13 AM in Scarlett Johansson, Well Played | Permalink
Fugdon Bridge
The last time I wrote about Fergie, I bid temporary adieu to The Fug, which she had banished from her closet long enough to show up at the Poseidon premiere without eliciting any snide "sinking ship" comparisons.
But I think we all knew, deep down, that she wouldn't be kept down for long; buoyed by the sheer atrocity of her idiotic ditty that's currently marauding its way to the top of the pop charts, the Duchess of Fugsylvania is on her way back.
This ensemble is one part Annette Funicello, one part Sandy from Grease in the end when she turns slutty for Danny Zuko and that makes everything okay, and two parts Hot Topic's Krayzee Sum'r Clozeout Clearance Sale!!!!!!!!!!!!!!!!!!!!
And to that I say, no thanks, troll. Your London London Bridge can go down all on its own, Fergie Ferg.
Posted by Heather at 07:30 AM in Fergie (the Pea, not the duchess) | Permalink
August 30, 2006
Celebrity Tanorexia Watch: Lucy Davis
FOR IMMEDIATE RELEASE: Office Worker Overly Inspired By Goldenrod Copy Paper
LOS ANGELES -- British actress and known tanorexic Lucy Davis, best known for playing Dawn on The Office, has been upgraded to "Tanorexia Threat Level: Severe" after accidentally tragically falling into a vat of iodine prior to walking the red carpet at the Emmy Awards.
Observers close to Davis called the incident a ghastly affair.
"It was a ghastly affair," one of them said, on condition of anonymity. "If she weren't my daughter, I'd have laughed and laughed, and laughed some more, but instead I had to pull her out."
Davis, 33, was once a nice, normal color, as exhibited here in a photo from 2005.
But sources say Davis became a self-tanning addict since her success on the UK comedy; recently, when her concerned family confiscated her spray-on bottles and had her barred from Mystic Tan, Davis tried to take matters into her own hands.
The results of her attempted tanicide were devastating.
Davis's discoloration is so bad, photographers say they witnessed a duped Gene Wilder wandering up to her on the red carpet and idly asking if she would please get back to twaddling the vernicious knid epidemic in the factory before they ate through his crates of Wonka Bars. He then demanded a command performance of "Oompa Loompa Doompety-Do."
"Nonsense," scoffed Davis's rep. "Everybody knows vernicious knids don't eat chocolate."
Despite concerns that the new skin tone ages her 10 years and frightened a small child, Davis's stained skin earned her at least one fan: The Fruit Of The Loom company plans to invite her to star in a series of commercials in which an orange joins their motley gang of singing, joking characters.
"It'll be perfect -- we won't have to pay a makeup artist," said a guy in a giant red apple costume, who didn't give his name.
If you spy her wandering around town, GFY HQ advises, attack her with a bottle of sunscreen, blindfold her, spin her around 40 times, and then release her into the wild too disoriented to find the nearest spray-on salon.
END TRANSMISSION.
Appendix: TANOREXIA WATCH TERROR CHART
SEVERE:
Suri Cruise -- as in, find her inescapable prison and lock yourself in it until your flesh tone returns.
HIGH:
The Simpson sisters
ELEVATED:
Jennifer Aniston
GUARDED:
Hollywood Starlet whose agent gave her four gift-certificates to Mystic Tan
LOW:
Sane, sensible person
Posted by Heather at 02:48 PM in Celebrity Terror Watch, Emmy Awards | Permalink
The Black Fuglia
Scarlett Johansson can be so, so lovely.
Look at that! A hair color that's gently honeyed rather than a severe bleached blond, and sexy, soft makeup that's finally taken her away from the kind of red lipstick that naughty night vixens use to scrawl threatening messages on the mirrors of their more stingy customers.
Unfortunately, once we pull out of the closeup, things get a trifle more problematic.
The zig-zag shirt looks like the kind of cross-stitch canvas an eight-year old picks up to learn the basics, and those shorts -- those billowing, poofy shorts! -- are so wide that they're practically direct descendents of The Insidious Culotte, and first cousins to that pernicious little villain The Skort.
It's so bizarre to see ScarJo fall victim to the Newport News catalogue's vicious style propaganda. I would expect this kind of behavior from a Peldon. Or even from a Tisdale, who lives to look like a twelve-year old circa 1986; seriously, I am almost positive I owned ScarJo's shorts back when we were all too blinded by John Hughes and My Two Dads to know any better. But now we should know better. And we should certainly know better when we are in Venice, Italy, for a major film festival at which it's probably better not to look like you just came from back-to-school shopping at Wal-Mart, your brand new Playtex Cross-Your-Heart bra peeking through the pastel horror.
Posted by Heather at 01:25 PM in Scarlett Johansson | Permalink
A Fug Affair
I would love to have been at the Simpson Family Meeting where it was decided that Jessica ought to wear this little number: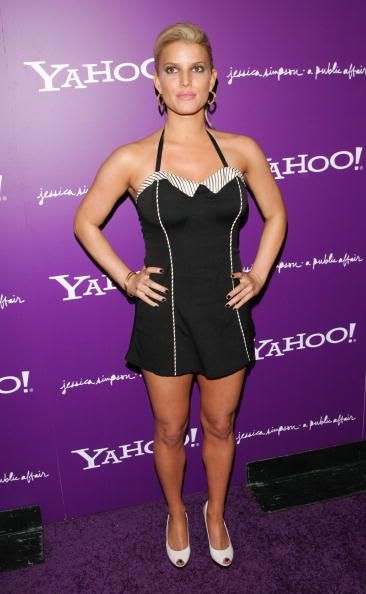 MA SIMPSON: What should Jessica wear to that Yahoo! thing tomorrow?
PA SIMPSON: Pasties!
MA SIMPSON: No.
PA SIMPSON: Hot pants!
MA SIMPSON: Not again. What about a slinky little cocktail number?
ASHLEE SIMPSON: Um, I totally hate to be a bitch, but am I the only person who's noticed that she looks like she's been living on a steady diet of KFC lately?
MA SIMPSON: Look, Ashlee, for the last time: we are not sending her out there dressed like Buckethead.
ASHLEE SIMPSON: That is not what I meant! She's totally been riding the lard pony, you guys! We were all at the Simpson Family Weigh-In this morning. You saw her charts. She's so gained weight since we booted Lachey!
JESSICA SIMPSON: (silent due to laryngitis, gives Ashlee dirty look, throws a highlighter at her head, gives her the finger.)
ASHLEE SIMPSON: You guys NEVER thought this would happen! DID YOU? NO! You NEVER thought I would be the hot one! AT LAST! THE STICKS OF BUTTER I HAVE BEEN WHIPPING INTO HER NUTRA SLIM SHAKES ARE WORKING! I HAVE FINALLY DEFEATED HER MAGIC METABOLISM! SURE, IT'S ONLY LIKE FIVE POUNDS, BUT I WILL TAKE IT! THANK YOU GOD! MY BLOOD SACRIFICE IS IMMINENT!
JESSICA SIMPSON: (holds up sign reading: "It's just three pounds, but even if it were 35, I'd still be hotter than you, you tragic little desperado.")
MA SIMPSON: Don't be ridiculous. She's maybe just a little bloated, and she's still very pretty. Let's just put her in a car hop costume and hope for the best.
ASHLEE SIMPSON: WHY DOESN'T ANYONE LISTEN TO ME? I'M THE PRETTY ONE NOW AND YOU'RE STILL IGNORING ME! SHE CALLED ME TRAGIC! I'M NOT TRAGIC! You don't think I'm tragic, do you, mom?
MA SIMPSON: Huh? Oh, we thought you'd left. Run along and play, I have to brush Jessie's hair 1000 times now.
ASHLEE: I HATE YOU ALL!
Posted by Jessica at 10:52 AM in Ashlee & Jessica Simpson | Permalink
Lois and Fug
"Hi. I'm Teri Hatcher: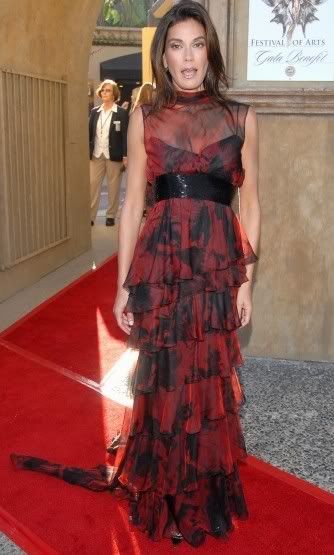 The Emmys totally snubbed me and the rest of my Desperate Housewife co-stars this year and we've all reacted differently. Felicity Huffman made some bullshit phony baloney speech about how she doesn't care about awards because she goes home to a wonderful man every night and he loved her even when she was fat and also, she ALREADY HAS ONE SO SHE DOESN'T CARE. I totally hate her. Marcia was all fine with it until she realized that the morons who put together the Aaron Spelling tribute had no idea what sort of genius montage they could have put together that, therefore, America was robbed of the opportunity to see her rip off her wig on a big screen during an awards ceremony. I'm with her on that one: in a time of mourning, her stellar work as Dr Kimberly Shaw will heal our wounds. Eva decided to go anyway, BECAUSE SHE'S A FAME WHORE. And I decided to punish America by not going to the awards in my panties this year, like I did the Grammys. Instead I put on The Dress That Ate My Neck and went down to Laguna to attend the Pageant of the Masters, where down on their luck actors have to act out famous paintings and shit. I just know I'm going to have to act in this freakshow myself next year if things don't turn around. I can't believe my comeback was so short lived. HOW MANY BUSHES DOES POOR SUSAN HAVE TO FALL NAKED INTO FOR YOU TO LOVE ME AGAIN, AMERICA? Because I'll do it.
But don't get the wrong idea. I'm totally happy to be here in Laguna instead of accepting an Emmy award that I should have won last year. Just look at me: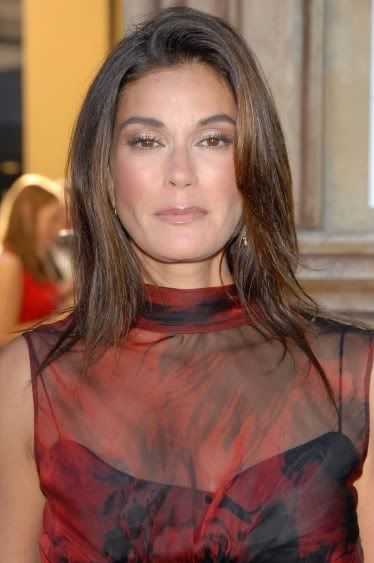 I'm so damn happy to be here that it actually hurts."
Posted by Jessica at 09:06 AM | Permalink
Random Fug: Leven Rambin
Leven Rambin plays an autistic teen on All My Children, and she's really, really natural and good at it -- assuming you can get past the new herky-jerky camerawork and watch long enough to notice, and also not vomit from motion-sickness.
At any rate, she's very charming on the show, and her performance and the whole fresh-faced youthful glow of it all inspires a maternal protectiveness in me, which is why I yelped when I saw this photo.
I want to scream at her, "Leven [Middle Name Here So She Knows I Am Seriously Angry] Rambin! You are SIXTEEN YEARS OLD, young lady! You have no need to be naked! Get back upstairs and put on a shirt that's more substantial than a spandex waistband and two flaps of suspiciously stiff-looking satin! You are not Paris Hilton and you DEFINITELY are not some disco singer from the 1970s on her way to Studio 54, and you have SERIOUSLY spectacular skin! Which is neiher here nor there but I'm VERY, VERY UPSET, and stuff just pours out of my mouth when I'm upset and your nail polish is really cute! There, I said it! NOW GO CHANGE BEFORE A BUNCH OF GRUBBY-FINGERED BOYS FIGURE OUT HOW HOT YOU ARE OH MY GOD I AM PUTTING YOU IN A CONVENT TOMORROW AND THEY CAN BUS YOU TO THE STUDIO."
But it's just out of affection. I bellow because I love, Leven.
Posted by Heather at 07:32 AM in Random Fug | Permalink
August 29, 2006
Emmy Awards Fug: Candice Bergen
Look, we're not going to pretend that Candice Bergen isn't totally rad. Who didn't love Murphy Brown (I myself often think of the episode in which it is revealed that Faith Ford's character, Corky Sherwood-Forrest, keeps a diary in which she records what she wears every day. The joke totally worked, but at the same time, I feel like this is not the worst idea anyone ever had)? Or, if you're too young to have watched Murphy Brown -- therefore making us feel ancient -- who didn't watch her guest spots on Sex and the City and think, "jeez, that older lady is a babe. I hope I age that well. " She's a silver fox, all right? AND YET ("and yet" being the watchword here lately, as Heather so wisely pointed out earlier):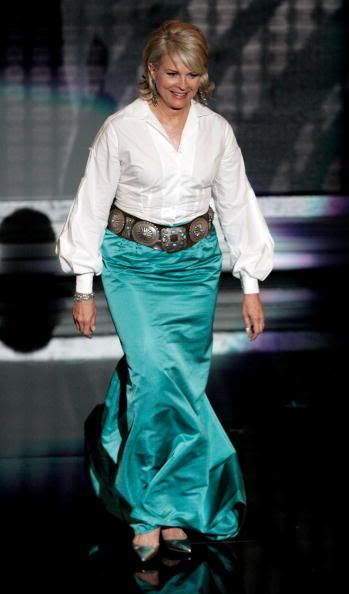 I love, love the color of the skirt, and Bergen can rock the collared shirt like no one else, but oy! The belt! It's so "Hey there! I'm your really cute and spry Grandma who wears jeans and lives in Arizona and grows a lot of herbs and just bought a wagon wheel coffee table for kicks!" But although that Grandma is awesome, she would never wear that belt to the Emmys. She knows better. And so should La Bergen.
Posted by Jessica at 04:14 PM in Emmy Awards | Permalink