Hey! I have this exact outfit! Mine's a terrycloth bathing suit coverup that I wore during the summer of 2004, accessorized with a Hefty bag full of discarded Pottery Barn catalogs and empty jars of Nutella. But it looks pretty much exactly the same.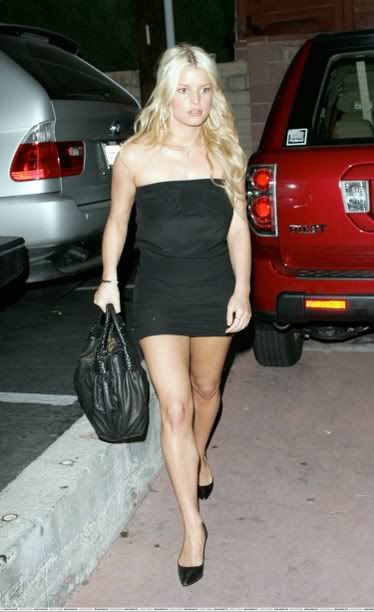 What I was missing, however, as I took out the trash back in 2004, was that extremely blank expression.
In all seriousness, I am starting to feel for J Simp a little bit. Her life has taken an unexpected (to her, at least) turn for the worse. Her romantic life is kind of a mess -- while Nick Lachey canoodles with Vanessa Minillo (and I must take this moment to confess that until about three days ago, I thought Vanessa Minillo was Christina Milian and vice versa), she sort of can't get a date. I'm quite sure that when she and Nick divorced, she never considered that she might run into trouble meeting a new boy. And yet....it's not been going very well, has it? If that weren't bad enough, her younger sister -- who she'd rather effortlessly overshadowed for the last twenty years -- not only suddenly looks A LOT CUTER, she also appears to be a stable relationship. Her dad just won't stop making weird comments about her boobs. And she seems to think this particular outfit is a good look for her, which clearly it is not, so it's possible that, to top it all off, she's losing her sight.
And now I'm depressed.