I would love to have been at the Simpson Family Meeting where it was decided that Jessica ought to wear this little number: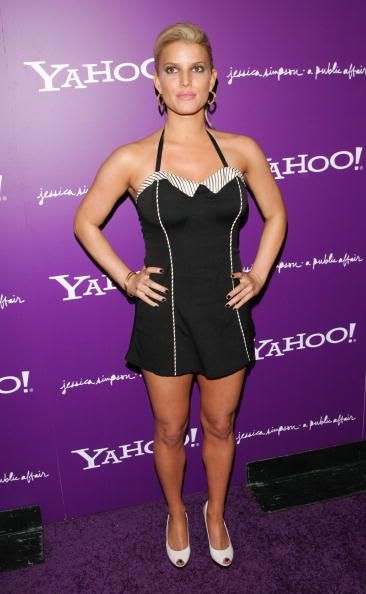 MA SIMPSON: What should Jessica wear to that Yahoo! thing tomorrow?
PA SIMPSON: Pasties!
MA SIMPSON: No.
PA SIMPSON: Hot pants!
MA SIMPSON: Not again. What about a slinky little cocktail number?
ASHLEE SIMPSON: Um, I totally hate to be a bitch, but am I the only person who's noticed that she looks like she's been living on a steady diet of KFC lately?
MA SIMPSON: Look, Ashlee, for the last time: we are not sending her out there dressed like Buckethead.
ASHLEE SIMPSON: That is not what I meant! She's totally been riding the lard pony, you guys! We were all at the Simpson Family Weigh-In this morning. You saw her charts. She's so gained weight since we booted Lachey!
JESSICA SIMPSON: (silent due to laryngitis, gives Ashlee dirty look, throws a highlighter at her head, gives her the finger.)
ASHLEE SIMPSON: You guys NEVER thought this would happen! DID YOU? NO! You NEVER thought I would be the hot one! AT LAST! THE STICKS OF BUTTER I HAVE BEEN WHIPPING INTO HER NUTRA SLIM SHAKES ARE WORKING! I HAVE FINALLY DEFEATED HER MAGIC METABOLISM! SURE, IT'S ONLY LIKE FIVE POUNDS, BUT I WILL TAKE IT! THANK YOU GOD! MY BLOOD SACRIFICE IS IMMINENT!
JESSICA SIMPSON: (holds up sign reading: "It's just three pounds, but even if it were 35, I'd still be hotter than you, you tragic little desperado.")
MA SIMPSON: Don't be ridiculous. She's maybe just a little bloated, and she's still very pretty. Let's just put her in a car hop costume and hope for the best.
ASHLEE SIMPSON: WHY DOESN'T ANYONE LISTEN TO ME? I'M THE PRETTY ONE NOW AND YOU'RE STILL IGNORING ME! SHE CALLED ME TRAGIC! I'M NOT TRAGIC! You don't think I'm tragic, do you, mom?
MA SIMPSON: Huh? Oh, we thought you'd left. Run along and play, I have to brush Jessie's hair 1000 times now.
ASHLEE: I HATE YOU ALL!