I like to call this tableaux, "When Bad Shoes Happen To Cute Outfits." Behold!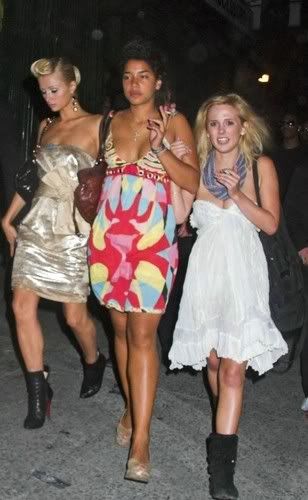 This photo was, according to our sources, taken the night of the VMAs, when Ms Paris was turned away from Bungalow 8. Hence her downtrodden expression. I suspect that the doorman got a look at her shoes -- and at the shoes of her companions -- and just decided, "This is IT. I can't do it anymore. I can not continue to validate this kind of abuse. WILL NO ONE RESPECT THE SHOES?"
Seriously. Paris, despite your attempts to convince us otherwise, you are not Pat Benatar. And thus, you should not be wearing those ankle boots with anything but pants. Take a cue from your Smoking Friend With the Sour Expression But Very Cute Cocktail Dress there in the middle. You can't see her shoes in this picture -- in fact, her footwear looks quite bedraggled -- but in other shots from this evening, you can tell that she's paired her dress with espadrilles. Yes, Paris! Seasonally appropriate footwear matched with the style of her dress! It CAN be done. She appears to have what we used to call, back when I was young, "a clue." It may behoove you to catch one.
On the other hand, at least you're not wearing Uggs. Here's my question about your Ugg-wearing companion: it's HOT right now. So, if you were going out for the evening, and you wanted to wear comfortable footwear that was inappropriate for the occasion, wouldn't you reach for flip flops, not Uggs?
Kids today. Just when I think I've got you all figured out....