Let's face it: if there would be one item that we would lash out against, unilaterally, it would obviously be shiny pleather leggings: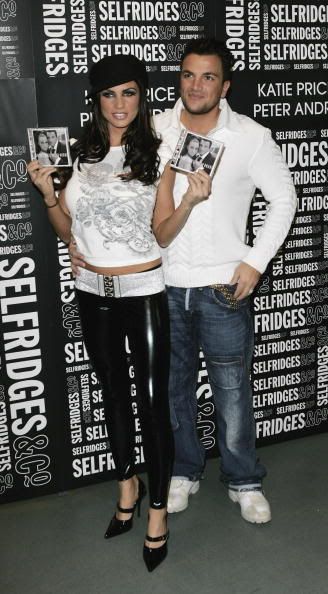 And yet, loathe as I am to admit it, Katie "Jordan" Price is kind of pulling them off. I have no idea how she got them ON -- baby powder? Vaseline? Prayer? -- but she's kind of working them.
Of course, it's entirely possible that I am feeling particularly charitable toward her because I just watched the video she and Peter Andre made for their cover of "A Whole New World." If you have not yet seen this, do yourself a favor and indulge. As Celine Dion sang so memorably in "It's All Coming Back to Me Now" -- a music video which looks like a three-minute advert for minimalism compared to Jordan and Peter's effort, by the way -- "there were moments of gold, and there were flashes of light. There were things I'd never do again, but then they'd always seemed right. There were nights of endless pleasure. It was more than any laws allow." Truly, the six minutes of black and white deliciousness that is their music video WILL provide you with endless pleasure. More than any laws allow. Enough, in fact, to make you accept black pleather leggings topped with a superfluous belt (because last time I checked, leggings don't have belt loops). It is that powerful. Consider that my gift to you.