« November 2006 | Main | January 2007 »
December 29, 2006
Happy Fug Year!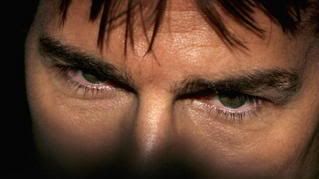 As 2006 draws to a close, it comes time to reflect upon all that we bore witness to in the celebrity realm. It was a fully adequite year,what with Britney finally dumping Kevin (yay!) and then starting to date Paris Hilton (boo); Jessica Simpson had a year-long nervous breakdown culminating in forgetting the words to 9-5 -- words which anyone who's SEEN 9-5 know well enough to fake it; Ashlee Simpson got her nose done, thus taking the first small steps toward enacting revenge on her sister for years of being treated like the lesser Simpson child; Lindsay Lohan...well, it's too long to get into here, but I think we all recall the highlights (Harry Morton, vagina, car crashes, alleged ODs, alleged AA, mother issues, father issues, blonde, brunette, red head, firecrotch, skinny, skinnier, allegedly coke-bloated, adequite spelling and grammar); Nicole Richie lost and gained the same two pounds over and over again and then finally lost approximately 85 pounds when she dumped Rachel Zoe, then celebrated by taking a little drive; Paris Hilton completed another year of getting people to pay attention to her for doing nothing, basically, and also released an album which I MIGHT have listened to in the car sometimes, but mostly because it was so bad that I found it kind of hilarious; Victoria Beckham wore a series of short-shorts and huge glasses to the World Cup, and we kind of shook our heads and then we read her new style book and decided that anyone who thanks Joan Collins in her acknowledgments is kind of fantastic; Hilary Duff dumped Joel Madden and grew into her teeth; Tara Reid took out her sandbags and had new, better sandbags placed in her chestral area. She seems to have cleaned up her act, but we are not holding our collective breath; Tom Cruise and Katie Holmes "had" a baby, got married, and performed unholy experiments with their bangs (pictured); Courtney Peldon might have been engaged to Crispin Glover and then wasn't anymore, and decided that she needed to be married to her perfume line instead; we mostly stopped saying mean things about Maggie Gyllenhaal, mostly, because she looked pretty cute when she was pregnant; Kiki Dunst won my heart with a pair of big fake glasses; I had a fight with one of my friends over whether or not I was allowed to be sick of Jennifer Aniston's Pain yet (I think I am); Aaron Spelling died and we were devastated. Tori Spelling seemed to handle it pretty well; Angelina Jolie and Brad Pitt actually DID have probably the best-looking baby ever born; lots of other celebrities babies were also born or adopted, and because we are secretly softies, we kind of thought they were all pretty cute; Fergie managed not to pee on herself, AND she's still dating Josh Duhamel, so we kind of had to hand it to her, but we'd like to see her lose the shorts for once; and, our intern won an Oscar AND was named Sexiest Man Alive. We thought about giving him a raise, but just gave him a hug instead.
Other stuff happened, too, but our hands are tired of typing. Needless to say, we are very pleased that you stuck with us through it all -- through all the leggings and Uggs and Crocs and formal shorts, the man-ties and jumpsuits and fake tans, the good wigs and the bad. Every day's a holiday with you, dear readers: often, in fact, it was a Lohan holiday.
So Happy New Year from the Fug Girls and Intern George! We plan to spend this long weekend sharpening our claws, and we'll be back to our regularly scheduled eviscerations on Tuesday, January 2, 2007. Drink some champagne for us -- we're going to have some for you.
Posted by Jessica at 11:21 AM | Permalink
December 28, 2006
Fughan Holiday
Dear Ali Lohan,
I don't really want to do this to you -- haven't you had enough problems lately? Your family is f'ed -- but I have to, for several reasons: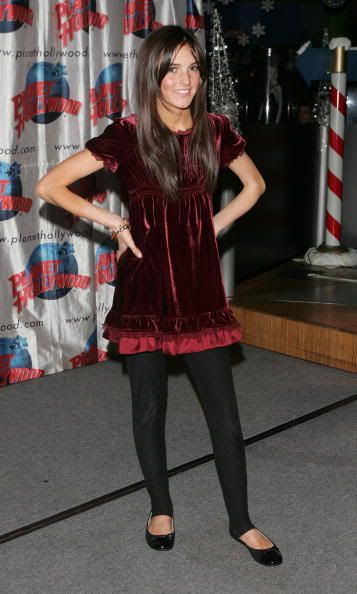 a) No one -- NO ONE -- is leaving the house right now. All our usual, reliable fugly subjects are locked up at home, stock-piling their supply of Crocs to be worn to formal events during the upcoming awards season. You're the only one outside now, Lohan. You're the only deer in the Fug Forest and I have but one bullet remaining. It has your name on it.
b) Are you wearing STIRRUP PANTS? I want to stab something.
c) All of this might have earned you a pass, except you subjected us to A Lohan Holiday. Reader, please, go listen to it. It will NEVER LEAVE YOUR BRAIN. Consider it my gift to you, this holiday season. And if someone could tell me what a "Lohan Holiday" entails, I would be incredibly grateful. I have my suspicions, but they are legally questionable.

Posted by Jessica at 08:15 AM | Permalink
December 27, 2006
Well Played: Jessica Biel
As 2006 draws to a close, and we drag ourselves from our brandy-soaked nog comas, a fugger's thoughts drift from their usual concerns (is it okay to eat fudge for breakfast ? What's Joe E. Tata been up to lately? Are we really going to to watch She's All That again, and would it be fair to compare Usher's role in such to David Silver? Where are our pants?), and instead turn to those we have fugged this year, and those who have not been fugged. In today's post-holiday goodwill-haze, we choose kindness and gratitude, and thank Jessica Biel for transforming herself from Tragic Refugee From That Show Of Aaron Spelling's That We're Excluding From the All-Spelling Network We're Working On and into a generally well-dressed babe. (Also: we know, we know -- you can't write about Jessica Biel without asking where her ass came from. Did she have that on 7th Heaven, but it was concealed, because you can't spell Satan without two of the letters in "ass"? Or did she get addicted to squats? Actually, we don't care how she got it -- she's working it, and we salute everyone who's working whatever they've got.)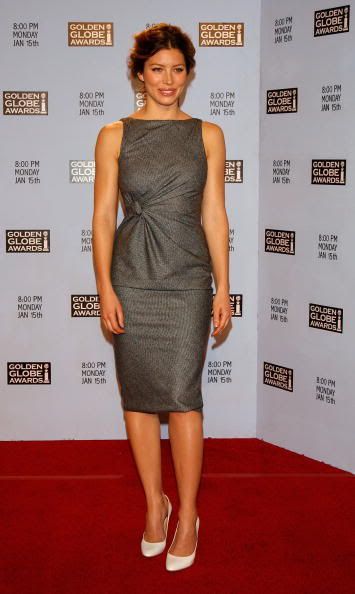 So pretty! And I kind of like the white shoes -- they're refreshing in a way that black ones wouldn't be, and make her outfit look more age-appropriate.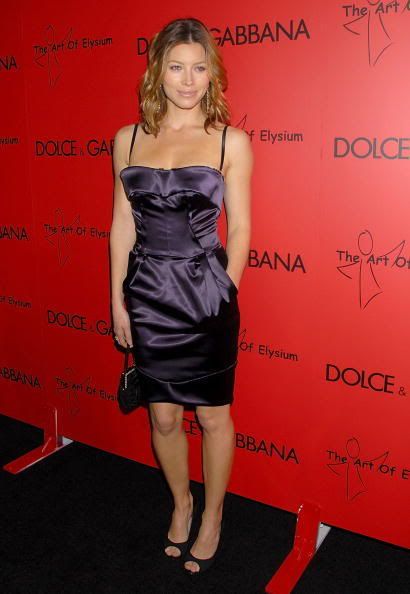 Satin + pockets usually = hot, wrinkled, hippy mess, ergo pulling this off is a triumph indeed.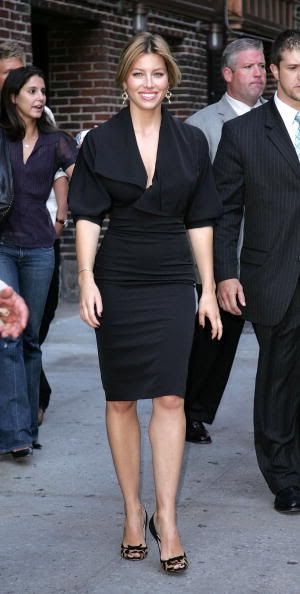 I want those shoes.
So she's definitely doing variations on the same shape in all of these -- pencil skirty, and tailored, but it works for her. It's body-conscious without making her body the focus of everyone's attention. She looks classy, but not boring (since all the pieces have some interesting detail), and...I'm sorry, I'd like to continue, but I really need some more nog. Let's just put it this way: Nicole Richie picked up Biel's stylist, and I'm glad, because she seems to know what she's doing. Also: Usher's role in She's All That is clearly inspired by the David Silver role in 90210 -- the similarities are driven home by the fact that the movie was filmed at the same high school that housed the kids from West Beverly -- but to draw too many parallels between them would be to disregard the depth of the Silver character and assume that all high school DJs are the same, which likewise does Usher's nuanced portrayal of a dude who appears to speak only from the DJ booth no favors.
And apparently, Joe E Tata hasn't worked since 2001. We're kind of worried about him.
Posted by Jessica at 07:54 AM in Well Played | Permalink
December 26, 2006
When Intern George isn't rubbing our feet, scrawling "Mr. George Fug Girls" on his Trapper Keeper, or peeling grapes that he then feeds us from a silver platter -- as we lounge on our chaises and swoon, "Dahling, WHITHER the fug today, I shall simply PERISH if Mischa Barton doesn't soon leave the house in a Value Village tee!" -- we sometimes let him answer our mail. And today, we decided to let him print some of his answers. We swear on all things holy (so, on George himself) that these are all VERY real e-mails we've received at GFY HQ, with names removed to protect the somewhat innocent.
---
E-mail #1
Subject line: hi
hi hilary. I think.Just wanted to say that u r my biggest fan
Dear Friend,
This was a wonderful, soul-tingling surprise. Because you know what, sweet snacktoast? I am your biggest fan, and I'm not sure how you knew to trust my willing arms, but in this crazy mixed-up world of hate and hunger, I am so thankful you could close your eyes and shove it away and see only a steaming, juicy platter of me, your Hilary. Indeed, it matters not what you call me. The heart needs no label but the one that says, "Open."
Enter at will,
G
---
E-mail #2
Subject Line: Thx
Hi Joe,
Thx for the tip.Your blog is great I like the celebrity section.
Keep visiting my blog.
thx again
Dear Friend,
It's funny, isn't it, how some days we all like to hide behind talking about a blog -- when what we're really saying is, "You know what, friend? I'm feeling vulnerable, and I need the kind of hug that will make me feel like the star of your movie. Please, nugget, don't foresake me. I need you now more than ever before." So don't run, gentle dumpling. My casting couch is one of hugs and honesty. Let me direct your movie with my sturdy arms.
Action,
G
---
E-mail #3
Subject Line: about a boy named ryan
dear fergie, why is this bo0y chetting on me beacas he said your hot so now we broke up from your falt.thank you fergie
Dear Broken Friend,
My heart aches for you, gentle wonder! When confronting the traitor that unwittingly clasped your trust in his manly, moisturized mitts and then gave it hives from all the perfumes in his luxe creams, you actually signed off with a mannerly thank you to the careless caregiver! O, curses! Damn my warming, welcome embrace! A pox on these open arms! It's the cruelest fate that the greatest gift I have could be used against someone so pure.
You tell that boy that the promise of a supportive squeeze from a lifelong friend like me is no excuse to act a cad. You tell him you're worth more than his weak affections. And then you get RIGHT on over here and let me soothe you the only way I know how: against my restorative pecs.
Hurtin' hearts need some hugging,
G
---
E-mail #4
Subject Line: Poor george
Dear fuggers,
I just wanted to offer my condolences to Intern George for the loss of his best friend. Maybe he should get a foot rub today.
Dear Friend(s),
So many beautiful fug huggers sent messages of worry and support during this trying time. This generosity of spirit reached out and fondled my grief with its medicinal digits, and I got off the table after a full emotional release feeling newly hopeful.
Life will not be the same without Max -- to borrow from Charlotte, the spider whose eight legs can create a safe place as divine as any human hugspace, Max was Some Pig. And although I grieve for his porcine snuggles, the best therapy short of hugging myself, there is a silver lining: I lost my best pig, but I gained so many other life partners in you all.
I'm welling up. The Cup of George runneth over; this holiday season I will do nothing but meditate upon your kindness, sending hug after virtual hug into the ether. Pluck one. Stuff it with cheese. Then wrap it in kisses.
Happiest of holidays to you, the balm to my gloom.
Thank you for saving my bacon,
Your G
Posted by Heather at 10:16 AM in Intern George | Permalink
December 25, 2006
Ho Ho Ho
A very merry Christmas to those readers who celebrate it, and the happiest of three-day weekends to those who don't! As for us, we're taking the day off to roll around in vats of figgy pudding and heavily spiked nog, after which Intern George will present us with several extravagent and glorious gifts, proving once and for all that he does truly love us, and that he is not -- as some of you might suspect -- merely a figment of our fevered, drunk imagination.
Now, we don't know what he's got in store for us, but we do have a Wish List. All the Fug Girls want for Christmas can be found....under the jump.
Panties for Lindsay
Panties for Britney
Panties for Paris
Hell, panties all around!
A cheeseburger for Nicole.
And a milk shake
And maybe driving lessons
For Ben Affleck and Jennifer Garner to be photographed together once, just ONCE, because COME ON, people, you're married and you have a kid and you refuse to share the lens unless it's one that's secretly positioned outside your local Starbucks and WHAT IS YOUR DEAL?
A TV movie about the further antics of Dr. Kimberly Shaw (Marcia Cross), Dr. Michael Mancini (Thomas Calabro), and Sydney Andrews (Laura Leighton), our favorite trio of Melrose Place characters. Sure, the two ladies died near the end of Season 5, but in the words of our beloved Dread Pirate Westley, death cannot stop true love. All it can do is delay it for a while. This movie could be called Melrose Hos.
The demise of booties, Uggs, Mukluks and Crocs
A pool boy
A pool bar
A pool, period
A dramatic fall in the price of Christian Louboutin shoes, prompted by the company's desire to beautifully shoe all women of the world
For Meryl Streep/Jane Fonda/Jamie Lee Curtis to grab Lindsay Lohan, shake her hard, slap her a few times and take her under their wing, providing direction, adult support and some actual good advice.
Or, see above, except replace the word "grab" with "adopt."
For Ted Casablancas to actually reveal the identity of Toothy Tile
Pants. We love pants.
Some Diet Coke to drink while we admire our new pants
Eh, why not: world peace.
We hope all of you get everything your hearts desire, too -- except for Intern George; he's taken. And for those of you who don't get Christmas week off and are forced to stare at your computer screens desperate to find some tools for procrastination, our gift to you is a little fresh content.
Beginning Tuesday, Dec. 26, we'll have something new up every day (well, assuming any celebrities leave the house, which is never a given on a holiday week; cross your fingers they think we're not paying attention and they find a red carpet to walk wearing nothing but Ugg boots, leggings, and a stained tank top). Never let it be said we're not givers.
Happy holidays!
Posted by H & J at 08:02 AM | Permalink
December 22, 2006
Unfug the World
NCIS actress Pauley Perrette loves wearing tees with things written on them, as we learned last time we featured her. And she has struck again: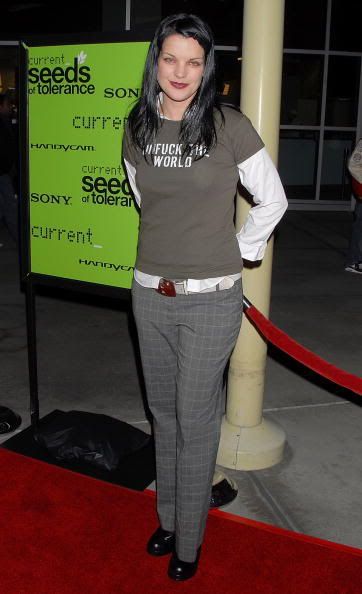 Now, don't get me wrong. I agreed that there are things in the world that are totally f'ed (to speak in FCC-approved language, language that will not get us blocked from your workplace). I likewise agree that said things in the world should be un-f'ed. You know, like war and famine and lactose intolerance and whatnot. (A life without cheese? Horrifying.) On that, we are totally agreed. But we differ on ONE tiny point: I do not think I would look in my closet and say, "What to wear on an evening where I will be meeting former Vice President Al Gore? I know. My 'Unfuck The World' tee shirt." I mean, I'm sure Al agrees and all, but maybe, when meeting former heads of state, it might be more appropriate to opt for your "Save The World" tee shirt, or your "Save the Whales" tee shirt, or even your "Save Winona" tee shirt. Because, in certain circles, working blue is not going to get you the response you want. It's just going to make people feel a little uncomfortable -- like the difference between your boyfriend telling his roommate a blow job joke, and him telling it to your grandma.
And if there's one thing we need to take away with us in this season of peace and light, it's that none of us want to be talking to our grandmas about blow jobs.
In fact, I need to stop talking about this right now. How did I even get to this point? I'm horrified at myself. I'm just going to shut up. Stop reading this. Go call your grandma.
Posted by Jessica at 10:38 AM | Permalink
Black Fugmas
Perhaps as an homage to being in a holiday horror film, Michelle Trachtenberg decided to show up at its premiere dressed as if she's the walking dead.
She looks like a dead bride -- choked to death by her collar, mayhap? -- who's haunting the Hollywood & Highland complex in her moldy old gown, hoping to scare the couture off some better-dressed starlets. But Michelle should have planned this out better. By garbing herself as the embodiment of otherwordly gloom, she has committed what should still be on the list of cardinal sins in Hollywood: She let Tara Reid outshine her. Oh, the angst-filled, angry diary entries that will ensue.
Posted by Heather at 09:59 AM | Permalink
December 21, 2006
Fug The Cover: Janet Jackson
We've been fugging a lot of covers lately, begging the question: What is up with January magazine covers? Traditionally, January issues are thin and flat -- like a bad hair day -- presumably because mag staffers are exhausted from putting together the December issues, which generally could be used to weight down a body. You know, if you were that kind of a girl. So I guess it's not too surprising that a lot of January covers are kind of lackluster. And yet I could not let Janet Jackson's appearance on Singapore's Harper's Bazaar pass without comment: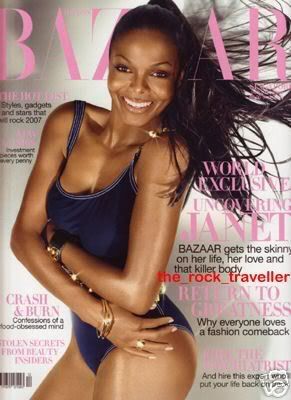 To be blunt about it: Is there some law that Janet Jackson can not appear on the cover of any major magazine in pants? Remember her W cover? This is almost exactly the same concept. I mean, it's more Wholesome 80s Super Model Going For a Dip in the Pool After Some Refreshing Tab, while that one was more...freaky. But, seriously: We know, you lost a whole lot of weight. Your body looks nice. Excuse me, according to the cover, it is "killer." (And I don't think the use of the phrase "the skinny" on the cover is a coincidence, either.) But would it kill you to CONSIDER PANTS on occasion? EVEN THIN PEOPLE WEAR PANTS. We'll still KNOW that your ass is smaller than it used to be. You can PUT IT AWAY NOW.
Posted by Jessica at 03:26 PM in Fug The Cover | Permalink
Brooke Fugan
Satin is one of the toughest fabrics to wear unless you are built like a curtain rod. And formal shorts are, quite simply, cut from bolts of fabric woven out of the devil's back hair. Separately, they are one occasionally toxic friend, and one flat-out evil bitch. And we had hoped that never the two would meet.
We should really know better.
Not only have they converged, but in the form of a strapless-onesie, to boot. It figures that fashion-challenged Brooke Hogan -- she of that repellant shiny grill, which thankfully she is no longer sporting -- would be the one trying to turn these two wrongs into a right. Alas, she has instead turned them into something too tight.
Posted by Heather at 11:57 AM | Permalink
Well Played, Tara Reid
Well, well, well. Looks like somebody's still striving to do right by that recent Us Weekly cover.
Not too bloated, nothing popping out, hanging out, or trying to escape, no mascara dribbling down her face like strained carrots from the mouth of a baby... Yes, okay, I still think she's lying about not getting a facial tweak or three when she went in to drain those godawful sandbags, but on the whole, it looks like her resolution to be less terrifying has indeed taken hold.
Ladies and gentlemen, let's start a slow clap for Ms. Tara Reid, potentially (please forgive my reluctance to go full-bore on the optimism) a guttersnipe no more.
Posted by Heather at 09:48 AM in Tara Reid, Well Played | Permalink