« | Main | Fughan Holiday »
December 27, 2006
Well Played: Jessica Biel
As 2006 draws to a close, and we drag ourselves from our brandy-soaked nog comas, a fugger's thoughts drift from their usual concerns (is it okay to eat fudge for breakfast ? What's Joe E. Tata been up to lately? Are we really going to to watch She's All That again, and would it be fair to compare Usher's role in such to David Silver? Where are our pants?), and instead turn to those we have fugged this year, and those who have not been fugged. In today's post-holiday goodwill-haze, we choose kindness and gratitude, and thank Jessica Biel for transforming herself from Tragic Refugee From That Show Of Aaron Spelling's That We're Excluding From the All-Spelling Network We're Working On and into a generally well-dressed babe. (Also: we know, we know -- you can't write about Jessica Biel without asking where her ass came from. Did she have that on 7th Heaven, but it was concealed, because you can't spell Satan without two of the letters in "ass"? Or did she get addicted to squats? Actually, we don't care how she got it -- she's working it, and we salute everyone who's working whatever they've got.)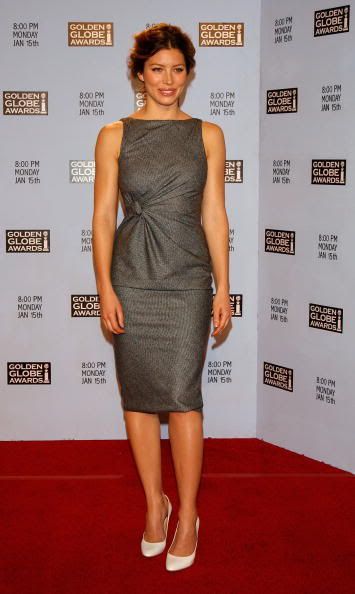 So pretty! And I kind of like the white shoes -- they're refreshing in a way that black ones wouldn't be, and make her outfit look more age-appropriate.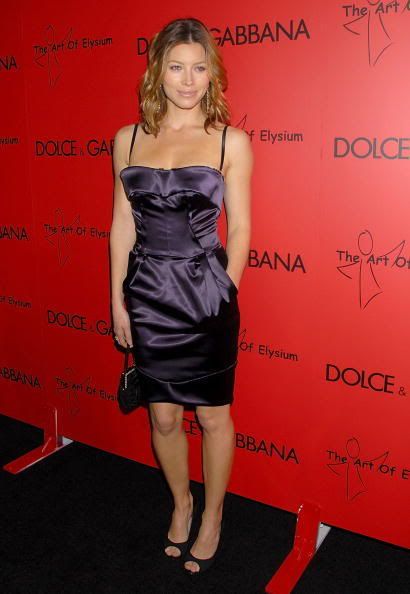 Satin + pockets usually = hot, wrinkled, hippy mess, ergo pulling this off is a triumph indeed.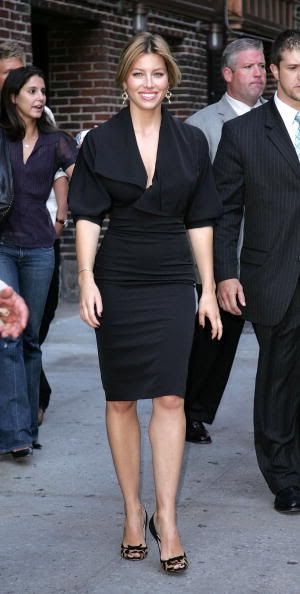 I want those shoes.
So she's definitely doing variations on the same shape in all of these -- pencil skirty, and tailored, but it works for her. It's body-conscious without making her body the focus of everyone's attention. She looks classy, but not boring (since all the pieces have some interesting detail), and...I'm sorry, I'd like to continue, but I really need some more nog. Let's just put it this way: Nicole Richie picked up Biel's stylist, and I'm glad, because she seems to know what she's doing. Also: Usher's role in She's All That is clearly inspired by the David Silver role in 90210 -- the similarities are driven home by the fact that the movie was filmed at the same high school that housed the kids from West Beverly -- but to draw too many parallels between them would be to disregard the depth of the Silver character and assume that all high school DJs are the same, which likewise does Usher's nuanced portrayal of a dude who appears to speak only from the DJ booth no favors.
And apparently, Joe E Tata hasn't worked since 2001. We're kind of worried about him.
Posted by Jessica at 07:54 AM in Well Played | Permalink