« December 2006 | Main | February 2007 »
January 31, 2007
Fug House
BOB: It's so nice to be here with the twins now that they're legal. And still talking to me. I mean, seriously, these are good kids. You don't see Stamos here, do you? No. But they are.
MARY-KATE: I wish Stamos were here.
ASHLEY: Bitch STOLE MY LIPSTICK.
BOB: Although... you know what, I wonder if I should have a talk with Mary-Kate. She's basically wearing a boxer's robe. And that's messed up -- I mean, if anyone tried to fight her, they'd get a KO just by sneezing on her hard.
ASHLEY: Seriously, I can't believe she stole that. We don't HAVE to be LIPSTICK TWINS, beeyotch. You already have MY FACE without my permission.
MARY-KATE: Stamos loves a red lip. He told me that. He was talking about someone his own age, but whatever -- we're soulmates. I knew what he meant.
BOB: And also, she really needs to get her roots done. Like, I'm happy to see her, but the reverse skunk stripe thing is annoying the crap out of me.
ASHLEY: At least I did my makeup without scribbling on my face with a black crayon.
MARY-KATE: When Stamos is here, he always takes me into a corner and wipes all the smeared eyeliner from underneath my eyes. It's the most special time I ever spend with another person. Why else would I show up in public looking like this?
BOB: I'm not good at these kinds of talks. I wish Stamos was here. Everyone listens to that sexy bastard. Even I can't stay mad at him.
ASHLEY: I'm totally texting Stamos later -- he'll understand. He'll feel my pain.
MARY-KATE: I can't believe Stamos didn't show. Sigh. Smile through the heartbreak, Mary-Kate.
ALL: Oh, Stamos.
Posted by Heather at 01:36 PM in Mary-Kate and Ashley Olsen | Permalink
Fugsic Fugstinct: Fug
"For a woman whose blazer was recently ripped apart by a pack of rabid dogs," Sharon Stone thought, "I look pretty f'ing good."
Posted by Jessica at 11:04 AM in Sharon Stone | Permalink
Fugs on Ice
Oh MY GOD, Oksana Baiul.
What is UP with you? One day, you're dressed like a hooker in a particularly grim Law and Order episode , and today, you look like you woke up and wrapped yourself in a....damn, dude, I can't even come up with a pithy metaphor for what this looks like. It's like a Hefty bag married to a parachute crossed with a bean bag divided by a....GOD, I DON'T EVEN KNOW. I'm out. I'm out of words. I have no more words. If only I could skate my displeasure in a long program titled "Sweet God, What Is That Thing?" and set to a remake of the old Bel Biv DeVoe classic, "(That Dress Is) Poison." That would about cover how I feel.
Posted by Jessica at 09:52 AM | Permalink
Well Played: Reese Witherspoon
Britney Spears could learn a thing or forty from Ms. Reese Witherspoon. And not just about how to wield talent, or how to be a loving and attentive mother in Hollywood.
No, she could learn something very specific about The Bounceback: how to rise above a pending divorce without needing to run around town caked in hangover sweat, changing your hair color every four hours but leaving no doubt as to which curtain color matches the carpet because you can't resist airing out all your bits.
Reese Witherspoon kept a low profile until her divorce news died down in favor of stories like, "Britney and Paris: Lovers, Fighters, or Both?" and "Hollywood Nose Jobs: Name That Septum."
And then she showed up on the awards circuit in a series of understated but glam cocktail dresses that show off how toned and trim she is, looking as if she doesn't have a care in the world. She also refrained from shoving her tongue into the mouth, ear, or other assorted oriface of the first guy who looks like her ex/looks like he smells like her ex, or even the second guy she met who fit that criteria. Indeed, she appears to be taking it all in stride and putting bedhopping at a relatively low priority. Whether that's true or not is all her own private business, but the point is, she's done a bang-up job of putting up a public facade of normalcy and class.
However, I will say this: She'd better not drop any more weight, because Reese is getting to that familiar point where she is too skinny for her chin.
See? It's just very... chinny. Which is an incredibly eloquent observation, I know. But her face just needs to carry a little bit more weight to avoid the ol' wicked-witch chin.
So here's my solution: Britney and Reese should become best buds. Reese can teach Britney how to dress, how to behave herself, how to rise above a split gracefully and without providing five tomes' worth of custody-case evidence in favor of her rat-pig ex, how to dial it down a few notches and be photographed taking her kids to the beach or to a playdate or shopping, and how to stop overprocessing her hair; Britney can repay the favor by teaching Reese how to eat enough Cheetos that she takes the edge off her chin. Ms. Spears would thusly up her social profile and her personal hygiene, and Reese comes out of it all looking like a Nobel Prize eligible humanitarian with a face that's got just the right amount of softness.
Everybody wins!
Oh, but Reese: Careful with the cocktail dresses at the Oscars. They were fine for the first two bashes of the season, but don't get stuck in a rut here, okay?
Posted by Heather at 08:49 AM in Well Played | Permalink
January 30, 2007
SAG Awards Fug Carpet: Kim Dickens
Poor Kim Dickens. Her character on Deadwood -- prostitute/madam/sad sack Joanie Stubbs -- went through a lot of terrible things, most of which I can't remember because I was so fixated on her outfit throughout the run of the show. See, her character had a habit of wearing this terrible wee top-hat, with a long veil attached. I hated it -- perhaps irrationally.
I don't like this either, but I feel totally rational about it: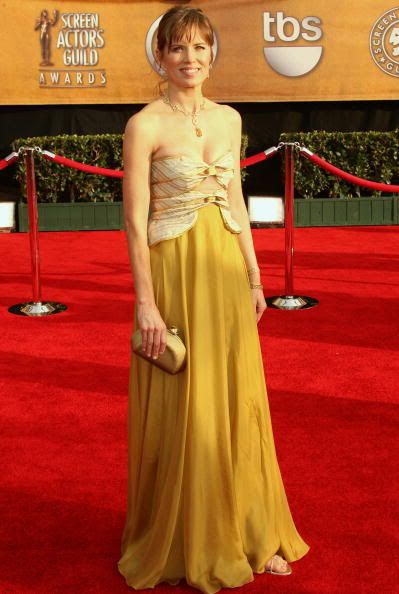 I was watching a TiVoed episode of What Not To Wear the other morning, and Clinton Kelly made the wise observation that mustard yellow flatters no one. What a terrible tragedy it is that his words of wisdom came too late for Kim. He also, I'm sure, would have said, if asked, that weird schlumpy bodices with bows that both make you look squashed and slumped over are ALSO flattering to no one. I want to run over there, grab the top of her dress, hoist it up about three inches, and tell her to leave the bad posture to the celebutantes.
Frankly, I kind of wish she'd gone for the hat.
Posted by Jessica at 03:34 PM in Misc. Awards Shows | Permalink
Fugolas Cage
In a desperate attempt to have a worldwide hit in Ghost Rider, Nicolas Cage has apparently taken a page from the Book of Hanks:
Unfortunately for Nic, trotting around in hair befitting an alleyway rapist isn't actually going to make his movie about a flaming skeleton biker look any less wretched.
What it might do is get him randomly sprayed by suspicious people with itchy trigger fingers wrapped around their pocket mace, but somehow I don't think the two experiences are in any way approximate of each other. Still, he does have National Treasure: The Book of Secrets coming up to console him. Movies about made-up mysteries of history apparently SCREAM for lead actors who look like their pockets are bulging with roofies. It will be so awesome when Diane Kruger's character returns for the sequel with a chestnut pixie cut, a French accent, and nothing to do except ask expository and often redundant questions of the male star.
Posted by Heather at 11:45 AM | Permalink
Fugtory Girl
Inside a Factory Girl party, Anna Wintour is caught out without her signature huge dark sunglasses, and remembers too late that half the reason she needs them is because she has no poker face.
SIENNA: Oh, bollocks, look at THAT, it's Anna Wintour! Editor of Vogue! Isn't it amazing that we're both here together -- a total fashion icon on one side, and Anna Wintour on the other!
ANNA: ...
SIENNA: Look, Anna babe, I've got this fab idea for your cover. It's gonna be me, right? Wearing THIS: a fuzzy sweater and nothing but tights as pants. It'll be, like, neanderthal lady meets Shakespeare. But with some serious control top.
ANNA: ...
SIENNA: Of course I don't need control top, Anna! It just keeps my bits warm for whoever gets them later. Between you and me, I'm thinking maybe the Harry Potter lads. Several of them, actually.
ANNA: ...
SIENNA: Anyway, your cover with me is going to make everyone talk, you know, because EVERYONE will be wearing this soon enough and I'm offering YOU the chance to be at the front of the line.
ANNA: ...
SIENNA: By the way, I really like your coat, can I borrow it? I'd like to cut it up into one of these shirts, and then maybe make a pair of furry trousers out of it that I can wear once everyone ELSE is wearing control-top tights-pants, and I suddenly become incredibly bored with them.
ANNA: ...
SIENNA: Come on, Winty, give us something more than just a robotic smile. Are you thinking about how to express how avant-garde I am? Or are you just speechlessly pleased to find someone who understands fashion even more than you do? Or do you want to have a go at my tights-pants? Come on, let's hit the Ladies, you can slip them on.
ANNA: ... Repulsive. Repulsive. You are an utterly ridiculous girl.
SIENNA: Er... uh, what? Sorry, can't hear you, babe! Too loud in here. Anyway, must dash. I see a camera over there that I haven't hit up yet. Kiss kiss!
ANNA: Somebody fire her. Immediately.
Posted by Heather at 10:02 AM in Sienna Miller | Permalink
Fug The Cover: Washington Flyer
We recently took a trip to our nation's fair capital for a wedding. It was mighty cold in DC, but the city greeted us warmly, and when we took our leave, it was with the satisfaction of a weekend well spent. When waiting in line for security at Dulles, I spotted one of those freebie magazines you find at places like airports. I am, if you must know, a huge fan of the SkyMall. Where else can you find the Pop-Up Hot Dog Cooker [awesome], the Basho The Sumo Wrestler Table [classy!] AND the extremely unsettling Poison Oak Tree Sculptures, as well, of course, as an assortment of change counters and accessories for your dog? And so I expect this particular magazine to perhaps be trying to sell me a new robotic can opener. But what it is REALLY trying to sell me on is the possibility that the cover model is actually Alec Baldwin:
At first, I thought this publication was called Washington Fever (a rather catchy name for a magazine, I think), and that Alex Baldwin HAD one, which is why he looks so very orange. Frankly, he doesn't look like himself at all. Let me refresh your memory: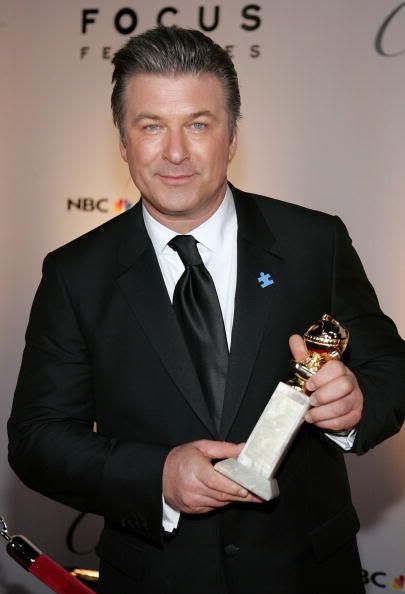 See? That's Alec Baldwin. Crinkly, amusing, ready to attempt to sell us some Schwetty Balls, and probably willing to show us his actual ones. We like it. Washington Flyer Alec, on the other hand, appears to coming directly from a Men's Warehouse print ad shoot. In fact, I'm not convinced that that's all Alec at all. I think maybe his eyes, nose, and mouth may all have been placed on the face of another oranger, less eye-bagged, even smarmier model in the hopes that exhausted travelers wouldn't notice that El Baldwin looks -- well, weird. But not us. We know the real Baldwin when we see him, and he's generally not the color of a mango margarita.
Which reminds us: we need to order that Margarator.
Posted by Jessica at 08:23 AM in Fug The Cover | Permalink
January 29, 2007
SAG Awards Fug Carpet: Mary-Louise Parker
Congratulations to Mary-Louise Parker for picking the one pair of open-toed partial-platform heels that are as frumpy as if they belonged to a geriatric stripper.
The pleated ballet costume isn't helping, of course. Its misguided "I'm 12 so I have an excuse for this in ten years when I look at the photos and hate them" youthfulness only further underscores the theory that those shoes were pried off the feet of an 80-year old prostitute named Hazel, whose heart gave out after she heaved the dominatrix whip one too many times, only to have a gross but enterprising Hollywood Boulevard shop owner liberate them and resell them for $50.
Maybe Mary Louise should play Hazel in the movie. America loves 3-hours-in-the-makeup-chair-every-day come Oscar time, so a wrinkled lady of the night who may sag but still shags is a perfect way to stretch her limits.
Posted by Heather at 01:07 PM in Misc. Awards Shows | Permalink
SAG Awards Fug Carpet: Rachel McAdams
Okay, children. Everyone, lie down on your mats, and close your eyes. We're going to play a little game of pretend.
Pretend you are Rachel McAdams. You are adorable and talented, and everyone likes you -- even mean, cranky bloggers -- because you are adorable and talented and seem normal and friendly and down to earth. You've got everything going for you. You have a totally cute boyfriend who finally shaved off his questionable facial hair, and who's getting nominated all over the place for his latest acting role. We assume that, somewhere in Canada, he's probably building a house for you. You know, just because. Things couldn't be better. And so, when the time comes for you to go with the boyfriend to an awards show, what do you wear, children? Think about it: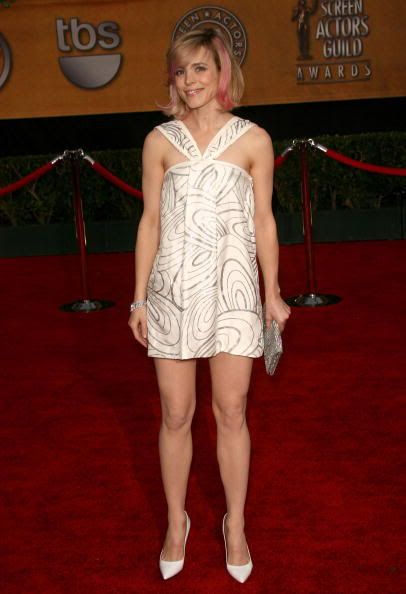 No. I'm sorry, kids. I believe in the power of imagination, and I want each of you to have a rich and satisfying inner life, but you simply can not wear that if you are Rachel McAdams. It is too short and too boxy to do your figure any favors and while no one loves the short, kicky Mod look more than I do, this looks like a very posh bath towel. Don't wear a bath towel to an event. Unless it's a pool party, and the 1st Annual Hollywood Pool Party Awards aren't until March.
So this is a setback, children. Keep your eyes closed, and let's all focus on getting Rachel McAdams into something stellar for the Oscars.
Posted by Jessica at 10:03 AM in Misc. Awards Shows | Permalink