Cute young actress Kat Dennings -- yes, you know her from your work as the webmaster of the world's only Raising Dad fan site, an off-shoot of your other website, Sagatmania! -- decided that the very best way to ring in 2007 was by dressing up the way old people used to look back in the 90s. What was it call? Floth? Bloth?
Oh, yeah: goth! A chunky-heeled black boot, a black babydoll dress, and a black choker? She's totally partying like it's 199...3! It's so retro! Maybe later she can put on some flannel and listen to Pearl Jam and talk about Earth Day and Paul Westerberg and Heathers. Ah, I feel young again just looking at her. I remember when I, too, wore a red ribbon tied around my calf. I believe it was to raise consciousness about the plight of my locker: so jammed with books and papers, my locker was suffering, and no one cared, especially me, weighted down as I was by thoughts of college applications and the prom. Will no one spare a thought for my locker? Oh, youth. I sort of remember you.
Let's take a look at the close-up: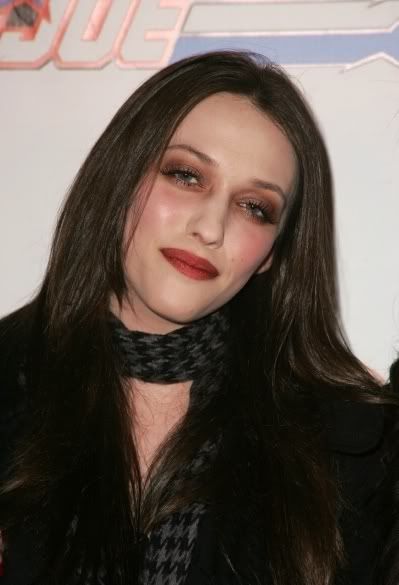 Sweet Mary! Admittedly, I am an old woman -- older than the hills, older even than The Hills -- but I believe this moves right past Retro-90s-Goth-fun and into "Mom, I don't feel so good." Where's the copious black eyeliner? The burgundy lipstick? If you're doing the Dress Up Like Your Elders thing, you've got to get the make-up right! And, seriously, no one has EVER done a smoky eye with a rust shadow, unless they're the make-up artist on a film called Black Death: Tales of the Plague.