Okay, children. Everyone, lie down on your mats, and close your eyes. We're going to play a little game of pretend.
Pretend you are Rachel McAdams. You are adorable and talented, and everyone likes you -- even mean, cranky bloggers -- because you are adorable and talented and seem normal and friendly and down to earth. You've got everything going for you. You have a totally cute boyfriend who finally shaved off his questionable facial hair, and who's getting nominated all over the place for his latest acting role. We assume that, somewhere in Canada, he's probably building a house for you. You know, just because. Things couldn't be better. And so, when the time comes for you to go with the boyfriend to an awards show, what do you wear, children? Think about it: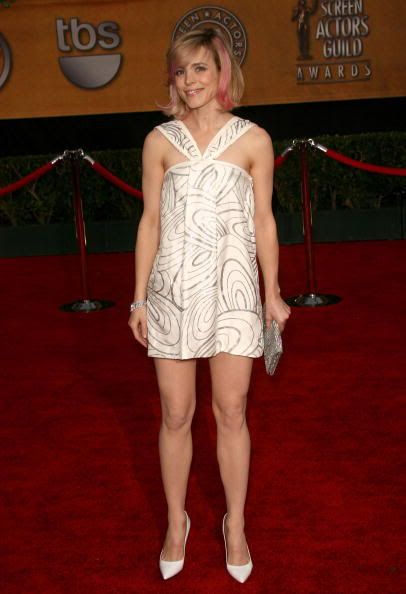 No. I'm sorry, kids. I believe in the power of imagination, and I want each of you to have a rich and satisfying inner life, but you simply can not wear that if you are Rachel McAdams. It is too short and too boxy to do your figure any favors and while no one loves the short, kicky Mod look more than I do, this looks like a very posh bath towel. Don't wear a bath towel to an event. Unless it's a pool party, and the 1st Annual Hollywood Pool Party Awards aren't until March.
So this is a setback, children. Keep your eyes closed, and let's all focus on getting Rachel McAdams into something stellar for the Oscars.