Poor Kim Dickens. Her character on Deadwood -- prostitute/madam/sad sack Joanie Stubbs -- went through a lot of terrible things, most of which I can't remember because I was so fixated on her outfit throughout the run of the show. See, her character had a habit of wearing this terrible wee top-hat, with a long veil attached. I hated it -- perhaps irrationally.
I don't like this either, but I feel totally rational about it: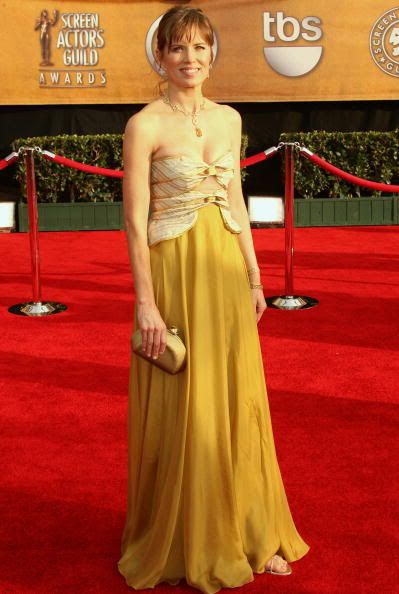 I was watching a TiVoed episode of What Not To Wear the other morning, and Clinton Kelly made the wise observation that mustard yellow flatters no one. What a terrible tragedy it is that his words of wisdom came too late for Kim. He also, I'm sure, would have said, if asked, that weird schlumpy bodices with bows that both make you look squashed and slumped over are ALSO flattering to no one. I want to run over there, grab the top of her dress, hoist it up about three inches, and tell her to leave the bad posture to the celebutantes.
Frankly, I kind of wish she'd gone for the hat.