What on earth, we wondered, could Santa have brought Sienna Miller?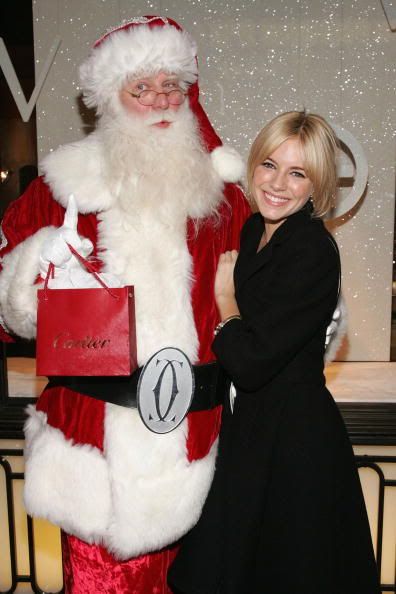 She has it all: a robust and loving relationship with the tabloids, a highly questionable, on-again, off-again toxic entanglement with a man currently best known for boinking the help (okay, I guess he's technically, "that guy in The Holiday who boinks the help"), and roughly 3 million pissed off Pittsburghers currently plotting revenge after she wisely referred to their city -- to a reporter, mind you, not her friends -- as "Shittsburgh." She is, in other words, one class act, and what do you give a girl like that for Christmas? Other than media training?
Why, if you said, "her own fashion label," you would be correct, according to Now Magazine, which appears to be the British version of InTouch. Apparently, Sienna's line will be inspired by: "the poetry of the Beat generation, Patti Smith and the dark and brooding London of Dickens." I'm fairly sure this means that we're going to see a lot of models dressed like orphan boys holding copies of Howl, and if there's one thing a modern woman wants, I think, it's to appear as though she has just escaped from the clutches of Evil Headmaster Wackford Squeers, who beat her more than the rest of the foundlings simply because she kept trying to organize group readings of Naked Lunch.